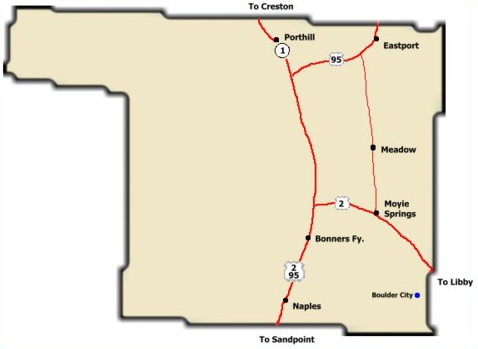 Towns, Communities and Former Settlements
Some of the historical communities are: Addie, Beardsmore, Boulder City, Chelemeta, Colony, Copeland, Crossport, Curley Creek, Deep Creek, Deer Park, Eatonville, Eileen, Fry, Good Grief, Harper, Katka, Kenney, Klockman, Leonia, Lucas, McArthur, Meadow Creek, Moravia, OckonooK, Ritz, Reed, Rock Spur, Round Prairie, Schnoors, Shiloh, Shultis, Sinclair, Smith Creek, Snyder, and Swede Island.
Communities showing zip codes are the only "towns" currently in Boundary County. If there is no zip code, the entire town is gone. We are starting to add pages about the communities, especially those areas where no town exists today. When completed you will be able to click on these underlined names and find further information, and we hope, even photos.
Addie
Vacant old school still remains; post office from 1908 to 19542
Bonners Ferry - 83805
Bonners Ferry from "History of Boundary County"
and Bonners Ferry
Cort Conley in Idaho for the Curious writes (p. 668f): The old Indian-Wild Horse Trail from Seneacquoteen came north through this area (Bonners Ferry). When gold was discovered on Wild Horse Creek, British Columbia, in 1863, thousands of prospectors, conscripted by the fever, came up the trail via Walla Walla to cross the river at this point. Not one to let an opportunity drift past, Edwin Bonner obtained an exclusive five-year franchise from the Territorial Legislature for this seven-mile stretch of river. His toll rates were $1.50 for loaded pack animals and .50 for a person on foot. . . . After the mining boom subsided, the settlement of Bonners Ferry looked like it be stranded out of place and time. Richard Frey leased the ferry from Bonner in 1875 . . .
Copeland
Still a thriving community, Copeland had a post office from 1900 to 19722
Curley Creek
Deer Park
Eastport
Eastport is located on the northern border; established as a post office in 1906 2 Zip Code 83826
Eatonville
Eatonville formally located on the eastern border of downtown Bonners Ferry is now part of the city.
Leonia
"Ghost town" (several buildings and a cemetery); established as a post office named Leonai in 1892; named changed to Lenia in 1901 & to Leonia in 19232
Meadow Creek
Old foundations still visible. Lots of lavender lilacs in spring. Post office 1910 -19432
Moravia
The former community of Moravia lies approximately 1 mile west of the Mirror Lake Golf Course. All that remains of the town are the cemetery, the school house (now a residence), and a motel (also now a residence). post office 1903 - 1917; 1918 - 19432
Moyie Springs - 83845
established as post office in 1926
Naples
Naples is at southern end of county. "Received its name from Italians working as construction crews for the Great Northern Railroad in the winter of 1892."1 - 83847
OckonooK
Now called Porthill
Porthill
on northern border; established as a post office named OckonooK in 18932 - 83853
Round Prairie
Sinclair
Sinclair had a post office 1914 -1933
Smith Creek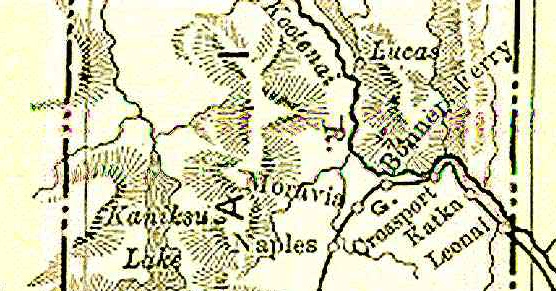 North Kootenai County in 1895, before Bonner County (1907) and Boundary County (1915) were formed
---
For a complete list of Boundary County historic post offices, see Mark Metkin's Idaho post offices website
1Cort Conley. Idaho for the Curious/A Guide. Backeddy Books, Cambridge, Idaho. 1982