Bonners Ferry Herald, Thursday, August 2, 2007
Edith Louise Tallmadge Zimmerman, 75
Edith Louise Tallmadge Zimmerman, 75, passed away at the Boundary County Extended Care Facility on July 26, 2007. Funeral Services will be held on Aug. 3, 2007 at 3 p.m., in the Church of Jesus Christ of Latter Day Saints, with internment follow in the Grandview Cemetery, Bonners Ferry, Idaho.
Louise was born on Sept. 25, 1931, in Pocatello, Idaho. When she was three years old, her family moved to Wallace, Idaho where her dad worked for the State Highway Department.
In 1946, her family moved to Bonners Ferry when she was a sophomore in high school. She did well in school and enjoyed being in the high school band.
During her high school years, she worked as an usher at the Rex Theater where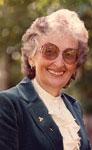 she met Dean Zimmerman (he had the "nicest" car in town). They married in December 1948, and she graduated from high school in 1949. That same year they built a small home on property belonging to Dean's parents in the Curley Creek area of Boundary County. They eventually sold the house to Dean's parents and began building a house in Bonners Ferry. In 1977, they bought 18 acres of land northeast of Bonners Ferry and built a beautiful home overlooking the Kootenai River valley and mountains.
Dean and Louise lived in Bonners Ferry all their married lives except for two short periods when they were in Seaside, Ore., and Great Falls, Mont.
Louise was an active member of the Church of Jesus Christ of Latter Day Saints, she devoted a lot of her time in service to her family and others.
She studied to become a licensed practical nurse, after graduating in 1967, she only worked for a short time, but renewed her license every year in case of necessity. She also took a seven week course in Spokane (commuting every day from home) in kidney dialysis training. She had a special gift for recognizing the needs of others and showing compassion. She was in attendance at most of her grandchildrens births.
After Dean's retirement, they traveled, camped and enjoyed visiting friends and family. Her all time favorite trip was her trip to Israel. Louise loved her family and was always ready for another camping trip with them. She loved music, swimming, quilting, reading, genealogy and serving others.
She is survived by her sister, Norma Jean (Frank) Miles; four children, Frank (Sonja); LaDean (Dave) Winn; Brian (Roberta); Darlene (Phil) Schneider. Twenty-one grandchildren, Jacoba, Caleb, Gabriel, Magdalena, Jarom, David, Elijah, Alex, Emily, Brannen, Will, Leo, Kurt, John, Luke, Amy, Joseph, Travis, Tom, Tana, Trevor; 14 great-grandchildren; numerous nieces and nephews. She was preceded in death by her parents, Norman and Estelle Tallmadge; two brothers, Don and Jim Tallmadge; and her husband, Dean Zimmeman.
The family suggests memorials be made to the Perpetual Education Fund, 50 East North Temple Street, Salt lake City, UT 84150-1501
Please visit the Bonners Ferry Funeral Home website at: www.bonnersferryfuneralhome.com and sign the guest book.