Mrs. Demond Wood Dies Friday After Extended Illness
December 12, 1958
Mrs. Demond Wood, 41, died Fri­day morning in a Bonners Ferry hospital after an extended illness. Mrs.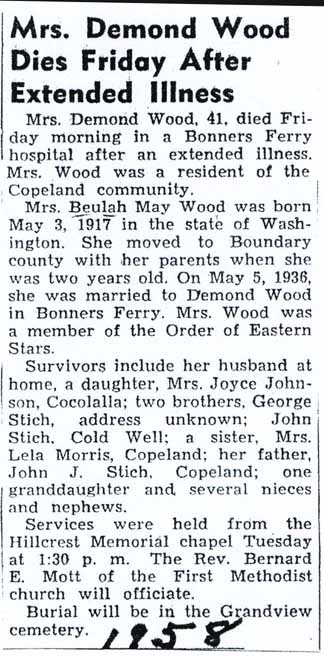 Wood was a resident of the Copeland community.
Mrs. Beulah May Wood was born May 3, 1917 in the state of Wash­ington. She moved to Boundary county with her parents when she was two years old. On May 5, 1936, she was married to Demond Wood in Bonners Ferry. Mrs. Wood was a member of the Order of Eastern Stars.
Survivors include her husband at home, a daughter, Mrs. Joyce John­son, Cocolalla; two brothers, George Stich, address unknown; John Stich, Cold Well(Caldwell): a sister, Mrs. Lela Morris, Copeland; her father, John J. Stich, Copeland; one granddaughter and several nieces and nephews.
Services were held from the Hillcrest Memorial chapel Tuesday at 1:30 p. m. The Rev. Bernard E. Mott of the First Methodist church will officiate.
Burial will be in the Grandview cemetery.