Alice M. Tucker
June 18, 1926 - March 12, 2005
Published in The Herald (Everett, Washington) from Mar. 16 to Mar. 18, 2005
Alice M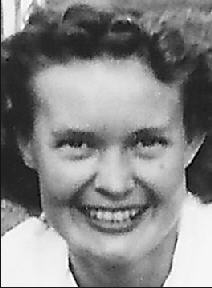 . Tucker, 78, former Granite Falls resident, passed away on Saturday, March 12, 2005, at Kootenai Medical Center in Coeur d'Alene, Idaho.
Memorial services will be held at 1:00 p.m., Saturday, March 19, 2005, at the Evergreen Funeral Home in Everett, Washington.
Graveside funeral services will be held at 11:00 a.m., Saturday, March 26, 2005, at the Moravia Cemetery near Bonners Ferry, Idaho.
Alice was born June 18, 1926, in Yarmouth, Massachusetts, a quaint Cape Cod town. Her parents were Harry and Mable Drew. Growing up among lighthouses, she herself was a beacon of light. She grew up going to Fenway Park watching the Boston Braves and later the Red Sox. She later became a huge Seattle Mariners fan, especially of Edgar Martinez.
Alice married Bruce Tucker in 1958, in Felmouth, Massachusetts. She faithfully followed him throughout his Air Force career. In 1963, they were stationed in Tacoma, Washington, and later settled in Granite Falls, Washington. Staying true to her baseball roots, Alice was instrumental in starting Little League in Granite Falls. She also coached her daughter Laura's high school softball team. She retired from the Everett School District in 1989, as a secretary and teachers aid. She moved to Sandpoint, Idaho, in February 2004, to be closer to her daughter.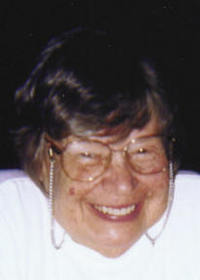 Alice loved spending time at the Granite Falls Senior Center, and was a member of the VFW and Eagles. She had very strong family ties and was a spectacular, mother and grandmother. She was a great listener, and had a very calming presence. Alice had a great love for bingo and baseball. She always expressed great pride and value in being an American citizen, but wasn't into politics. She always extended her home and heart to those in need, including her canine companions.
She is survived by her three sons, Rocky (Dee) Doane, Dennis, Massachusetts, Bruce (Kathy) Tucker , Baker City, Oregon, and Wade (Denise) Tucker, Granite Falls, Washington; daughter, Laura and husband, Dr. George DeLand, Sandpoint, Idaho; 12 grandchildren, Lisa, Tina, Christin, Marty, and Tracy Dennis, Massachusetts, Krista and Danielle McNeal, Sandpoint, Idaho, Leslie Tucker, Sandpoint, Idaho, Grant Tucker , Baker City, Oregon, Skyler, Gantz, and Cheyanne Tucker, Kristi and Tina Burns, Granite Falls, Washington; and many great-grand-children.
She was preceded in death by her parents; ex-husband, Bruce Tucker; son, Bobby Doane; and grandson, Nathan Tucker.
In lieu of flowers, memorial donations may be made to the Granite Falls Senior Center, 302 South Granite Ave., Granite Falls, Washington, 98252; or to the Humane Society of Snohomish County, 8304 Wayne Avenue, Stanwood, Washington, 98292.
Please visit Alice's memorial at www.lakeviewfuneral.com and sign her online guest book.