I have fought a good fight, I have finished the course. I have kept the faith
2nd Timothy, 4:7-8
In loving memory of my son,
Roddy Roy Torrence
1961 ~ 2004
Roddy Roy Torrence, 43, Spokane, fell asleep in the arms of Jesus, whom he knew and loved, on Labor Day morning, September 6, 2004.
Roddy was born May 18, 1961, in Everett, Washington. The family moved to Bonners Ferry in 1967, where Roddy completed his school years. He entered the U.S. Army in 1981, attending basic training at Fort Sill before being sent to Germany for almost two years. He returned to Fort Riley, Kansas, where he received his honorable discharge.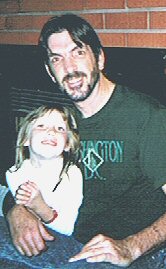 Rod lived and worked in the Spokane area. He married Nita Rupel in 1989. They had one son, Jeremiah. They were later divorced.
He loved his family and was dearly devoted to his Mom. He enjoyed riding his motorcycle, traveling in his old motor home and playing his bass guitar with friends.
Rod is survived by his son, Jeremiah; his mother, Val Harrington, and step-Dad Dale, Bonners Ferry; brothers Warren, Evan and Nathan, sister Nyla; and many loving aunts, uncles and cousins.
He was preceded in death by his father and his special Grandmother, Lillian Estabrooks.
A memorial service will be held at 1 p.m. Saturday, September 25 at Wellspring Community Center in Bonners Ferry. All his friends and family are invited.
The family requests memorials be made to Hospice or to Gideon's International.
(Pictured:Roddy Roy Torrence and neice Shannon Torrence)
Originally published on the website - Kootenai Valley Press
kvpress.com/obituaries/040906torrence.htm