Phebe Thomas
April 17, 1871 - September 18, 1951
published - Bonners Ferry Herald September 27, 1951
Services Held for Mrs. Phebe Thomas
Final servides for Mrs. Phebe L. Thomas, 80 who passed away at her home in Spokane on Tuesday, were held at the graveside in Grandview cemetery yesterday afternoon with Rev. Gerald Amundson officiating.
The pallbearers were two sons, Arthur Thomas and Robert Thomas, a grandson, Donald Thomas, R. L.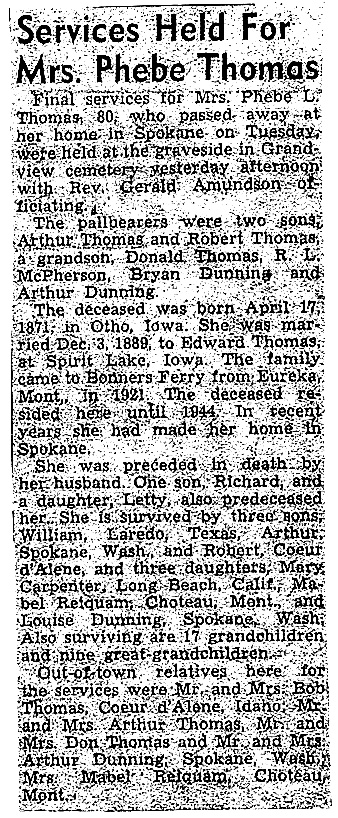 McPherson, Bryan Dunning and Arthur Dunning.
The deceased was born April 17, 1871 in Otho, Iowa. She was married Dec. 3, 1889 to Edward Thomas at Spirit Lake, Iowa. The family came to Bonners Ferry from Eureka, Mont., in 1921. The deceased resided here until 1944. In recent years she had made her home in Spokane.
She was preceded in death by her husband. One son, Richard, and a daughter Letty, also predeceased her. She is survived by three sons, William, Laredo, Texas, Arthur, Spokane, Wash. and Robert, Coeur d'Alene, and three daughters, Mary Carpenter, Long Beach, Calif., Mabel Reiquam, Choteau, Mont., and Louise Dunning, Spokane, Wash. Also surviving are 17 grandchildren and nine great-granchildren.
Out-of-town relatives here for the services were Mr and Mrs Bob Thomas, Cour d'Alene, Idaho, Mr and Mr Arthur Thomas, Mr and Mrs Don Thomas and Mr and Mrs Arthur Dunning, Sponane, Wash. Mrs. Mabel Reiquam, Choteau, Mont.