Flora Caroline Cardin Stich
Bonners Ferry Herald - November 10, 1926
TO BURY MRS. J. STICH SATURDAY
Died Suddenly at Home at Porthill Yesterday Morning
Mrs. John Stich passed away suddenly at her home at Porthill about 11 o'clock yesterday morning, Heart trouble was announced as the cause of death.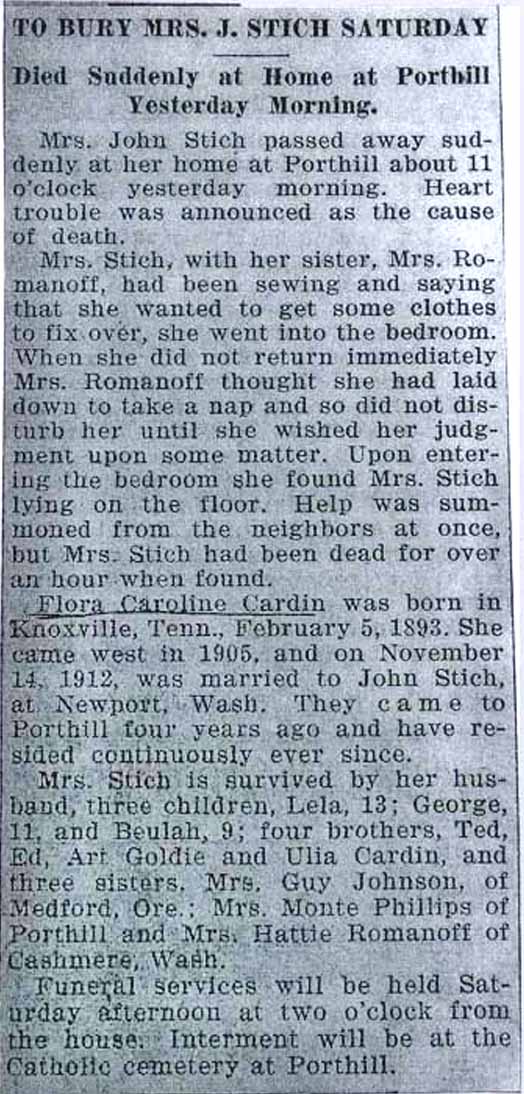 Mrs. Stich, with her sister, Mrs. Romanoff had been sewing and saying that she wanted to get some clothes to fix over, she went into the bedroom. When she didn't return immediately Mrs. Romanoff thought she had laid down to take a nap and she did not disturb her until she wished her judgement upon some matter. Upon entering the bedroom she found Mrs. Stich lying on the floor. Help was summoned from the neighbors at once, but Mrs. Stich had been dead for over an hour when found.
Flora Caroline Cardin was born in Knoxville, Tenn. February 5, 1893. She came west in 1905, and on November 14, 1912, was married to John Stich, at Newport, Wash. They came to Porthill four years ago and have resided continuously ever since.
Mrs. Stich is survived by her husband, three children, Lela, 13; George, 11 and Beulah, 9; four brothers, Ted, Ed, Art Goldie and Ulia Cardin, and three sisters, Mrs. Guy Johnson, of Medford, Ore.; Mrs. Monte Phillips of Porthill and Mrs. Hattie Romanoff of Cashmere, Wash.
Funeral services will be held Saturday afternoon at two o'clock from the house. Internment will be at the Catholic Cememtery at Porthill.