Stella Emiglia Spencer 1910 ~ 2005
July 31, 2005
Stella Emiglia Spencer, 94, passed away Saturday, February 12, 2005, at the Extended Care wing of the Community Hospital in Bonners Ferry, Idaho. Funeral Services were held on Thursday, February 17 in the Bonners Ferry Funeral Home with internment in the Grandview Cemetery.
Stella was born on November 9, 1910, in Boise to Victor and Florence (Helvern) Bernasconi. She received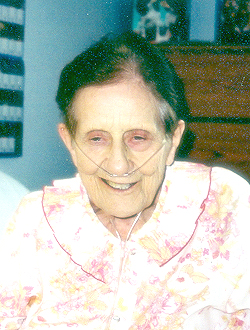 her education in Boise. She married Glen Crouch in Idaho City, Idaho. They operated a woodcraft shop in the Boise area. They later moved to Fairbanks, Alaska, and in the early 1950s Glen preceded her in death.
She remained in Alaska working in Juneau in the winters and summers in Fairbanks. She met Joseph Spencer in Juneau in 1958. They were married on March 8, 1968 in Juneau, and they remained in the area until retiring. In 1972 they moved to a small farm on the North Bench near Bonners Ferry. They moved into Bonners Ferry in 1984 and Joe preceded her in death in May of 1987. She has remained in her home until her death.
Throughout her life she loved to garden, enjoyed sewing and loved animals especially dogs.
Her parents preceded her in death as well as her two brothers, Joseph Bernasconi and Larry Bernasconi and two of her sisters, Mary Fotis and Virginia Grove.
She is survived by a third sister, Francis Prater, numerous nieces and nephews, stepsons Kenneth Spencer, David Spencer and Clifford Spencer, step daughter Gloria Chastain, and numerous step grandchildren.
Originally published on the website - Kootenai Valley Press - July 31, 2005
www.kvpress.com/obituaries/2005/0212spencer.htm