Vonnie A. Smith 1914 - 2004
Funeral services will be held at 10 a.m. Wednesday, July 14, at Free Methodist Church, for Vonnie A. Smith, 89, Bonners Ferry, who died at Boundary Community Hospital Sunday, July 11, 2004.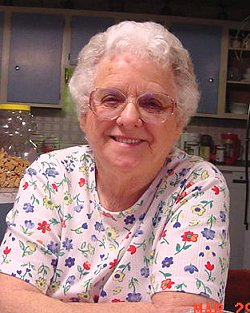 Vonnie was born near Porthill September 27, 1914, to Herman and Edna Austin. She attended various schools in Bonners Ferry and Kellogg, and she especially enjoyed the time she lived and attended school at the Continental Mine.
She married Charley B. "Tot" Smith on March 6, 1931, and they made their home on the West Side Road near Porthill. She loved the outdoors, and spent many hours hunting, fishing and picking huckleberries. Her greatest love, however, was her family, and she cherished the many happy hours she spent with them.
Vonnie was a member of the Paradise Valley Grange and the Free Methodist Church.
She is survived by daughters Cynthia L. Lock and Marva Maas; son Mike Smith; sister Elizabeth Streeter; 11 grandchildren, 19 great-grandchildren and eight great-great grandchildren, and friend Edward Bohlman.
She was preceded in death by her loving husband, grandson Willie Maas, sister Jessie Hydorn and brother John Austin.
Originally published on the website - Kootenai Valley Press
kvpress.com/obituaries/040711smith.htm