DEATH OF D. G. SINCLAIR.
——————

One of the Old Residents of Bonner's
Ferry Passes Peacefully Away.
——————
Daniel G. Sinclair, a well known
and highly esteemed citizen of
Kootenai county, died last Tuesday
at his home three miles west of
Bonner's Ferry.
The deceased was a native of
Greensborough, Nova Scotia, where
he was born May 17, 1834. He was
of a religious temperament and
joined the presbyterian church at
an early age; and few men have
lived up to the spirit of its teach
ings more carefully than the de
ceased.
In 1880 Mr. Sinclair moved to
the United States and in 1881 de
clared his intention of becoming a
citizen of the republic. He lived
in Yakima, Washington, seven
years and came to the Kootenai
valley in the spring of 1888. By
dint of industry and wise manage
ment Mr. Sinclair had established
one of the finest farms on the Koot
enai river.
He leaves a wife and several
children to mourn his death.
The deceased's brother from Yakima, Washington, arrived a few
days before Mr. Sinclair's death.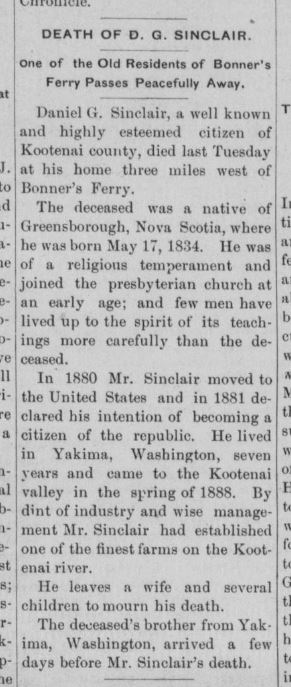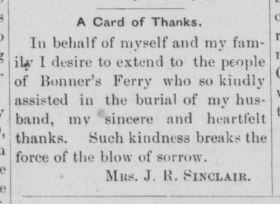 published: The Kootenai herald. September 09, 1893, Page 1