Oscar Benjamin Sherman, Jr.
On January 14, 2005, Oscar Benjamin Sherman, Jr. left this world to go to a better place. He was born on April 18, 1922, in Clovis, New Mexico, to Oscar B. Sherman, Sr. and Myrtle McBride Sherman. His parents and two sisters preceded him in death.
"O.B." is survived by his bride Kathryn, and children Trish and Foster Mayo and Bill and Jean Sherman, all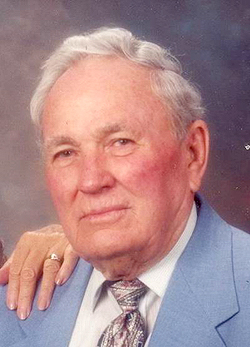 of Bonners Ferry. He has two grandchildren, Kevin Mayo, Salt Lake City, and Syrece Sherman, Lee Summit, Missouri, and three great-grand children: Brittiany, Chelsea and Brandyss. There are five "grand-pups," and numerous nephews and nieces.
"Uncle B" and "Aunt Katie" were married immediately after he returned from service in the Army-Air Force in WWII. He served as a navigator-bombardier in the 44th Bomb Group of the 8th Air Force, flying B-24s over Germany in 1944 and 1945. His fighting spirit was ever present, even as he succumbed on his last mission against his last opponent, leukemia.
After leaving the service, O.B. graduated from Eastern New Mexico University with a business degree. He took his small family on a series of adventures that left them with a treasure of memories. They moved to Bonners Ferry in 1997.
Through thick and thin, richer and poorer, in sickness and health, O.B. and Katie were inseparable for 59 years.
O.B. was a valued member of what Tom Brokaw has called the "greatest generation of our time." Oscar B. Sherman, Jr. was not a great or famous man, but he was a unique man who did small things in a great way. His life was grounded to his belief in God, his family, his personal ethics and doing the right things, the right way.
He was, as his grandson describes him, "The finest man I ever knew."
His favorite pastime was watching football or meeting the family for biscuits and gravy at the Badger Den. His one vice was the phrase, "good golly damn," which he used only when an opposing team scored a touchdown against his beloved Denver Broncos.
The family would like to express their appreciation and gratitude to Dr. Chuck Newhouse, the staff at Boundary Community Hospital, Dr. Alan Grosset and the staff at the Cancer Treatment Center in Coeur d'Alene.
They were consummate professionals who always treated O.B. as a person, not just a patient.
O.B. lovingly shared his life with us, but never his pain, disappointments or heartaches. His favorite hymn, "He Touched Me," by Bill Gaither, was played at his funeral on Tuesday, January 18.
It was most appropriate because O.B. touched us, and we shall never be the same.
Originally published on the website - Kootenai Valley Press - July 31, 2005
http://www.kvpress.com/obituaries/2005/0114sherman.htm