Bernard H. Schauer
May 4th, 1917 - March 18, 2011
published: Spokesman-Review March 24, 2011
Bernard H. Schauer "Bern" passed away on March 18, 2011 at St. Josephs Regional Medical Center in Lewiston, Idaho following complications from an injury. He was 93. Many family members were with Bernard during his brief illness.
Bern was born in Cutbank, Montana, May 4th, 1917 to parents Charles and Mary Schauer. In

Bonners Ferry, Idaho he played football for Bonners Ferry High school. In 1941, he married his sweetheart from Naples, Idaho - Eleanor Thompson. Bern and Eleanor were married for 33 years and raised four grateful children at their homes in Bonners Ferry, Sandpoint, and Hayden, Idaho.
During World War II, Bern served with the Sea Bees in the South Pacific where he was awarded a commendation for bravery for saving another man's life. After the war, Bern returned to his cherished home-country of Northern Idaho, where he worked for the next 30 years for the State of Idaho Department of Highways. He was very instrumental in the completion of the interstate highway system in Northern Idaho, working as a surveyor and highway designer in the Sandpoint and Coeur d' Alene offices.
Bern loved hunting and fishing in the beauty of North Idaho's forests and lakes. Having served in a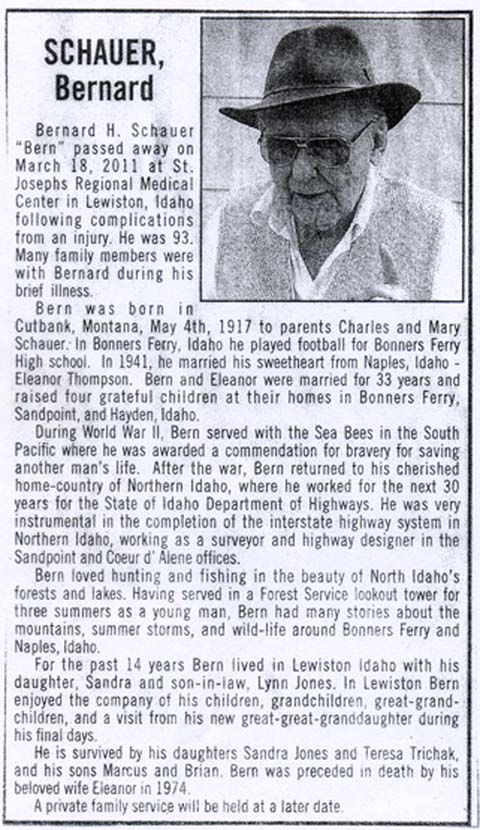 Forest Service lookout tower for three summers as a young man, Bern had many stories about the mountains, summer storms, and wild-life around Bonners Ferry and Naples, Idaho.
For the past 14 years Bern lived in Lewiston Idaho with his daughter, Sandra and son-in-law, Lynn Jones. In Lewiston Bern enjoyed the company of his children, grandchildren, great-grand- children, and a visit from his new great-great-granddaughter during his final days.
He is survived by his daughters Sandra Jones and Teresa Trichak, and his sons Marcus and Brian. Bern was preceded in death by his beloved wife Eleanor in 1974.
A private family service will be held at a later date.