Evelyn Marie Yancey Newton Roach, 94
Evelyn Marie Roach, 94, passed away on March 13, 2005, at the Boundary County Nursing Home. Funeral Services will be held at 10 a.m. Wednesday, March 16, in the Bonners Ferry Funeral Home chapel with internment in the Grandview Cemetery.
Evelyn was born on July 7, 1910, in Nampa, Idaho, to Jerry A. and Eva Mae (Lemmen) Yancey. During her childhood, she took ballet lessons and became a ballerina. She left high school in Nampa while she was in her senior year to get married.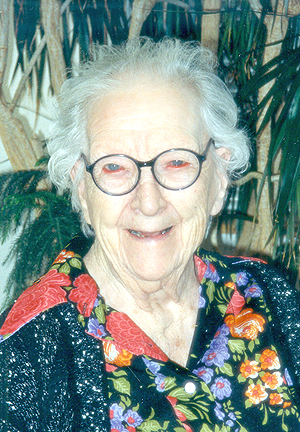 She and her first husband, Newt, had a baby boy, Frank Ronald Newton. Later they got divorced and she went to California to be with her Yancey family. She worked at Safeway and met Claude W. Roach and got married on Washington's Birthday, February 22, 1938. Their daughter, Karen Yvonne, was born October 7, 1940.
While Claude was in the Navy, she worked at the aircraft plant as an inspector in Torrance, California.
They lived most of their lives in California and traveled 48 states. After her husband passed away on March 29, 1964, she has been on her own.
In 1997, she moved to Bonners Ferry to be near her daughter and family. She has been living at the Restorium in 1999 she moved in to the Extended Care Facility at Boundary Community Hospital
She will be missed by everyone at the nursing home and by her family.
She loved to dance and go to see the Broadway plays in Los Angeles, and she loved to listen to good swing music and Dean Martin.
She is finally in peace and is able to dance ballet in heaven.
Survivors include her son Ronald Newton and wife Bev, Port Angeles, Washington; daughter Karyn South, Bonners Ferry; grandson Gary Newton at Yakima, Washington; granddaughters Sara Newton, Spokane, and Debby South, Plummer, Idaho; great grandchildren Chay South, Keith Greensky and Carol South, all of Plummer, and Jamie Greensky of Bonners Ferry; sisters Bonnie Koch of Joshua Tree, California, and Winnie Yancey, Cameron Park, California; brother Frank Yancey, Torrance, California; and many nieces and nephews.
She is preceded in death by her parents, brothers Gordon, Bob, and Jerry, and her grandson, Ronny Newton.
Originally published on the website - Kootenai Valley Press - July 31, 2005
http://www.kvpress.com/obituaries/2005/0313roach.htm