Daniel Edward Ripatti, 91, passed away at the Community Hospital Urgent Care in Bonners Ferry on March 6, 2005. Funeral services will be held at 11 a.m. Saturday, March 12, in the Bonners Ferry Funeral Home Chapel with internment in the Copeland Cemetery.
Dan was born on December 11, 1913, at the old Ripatti homestead along the Kootenai River at Copeland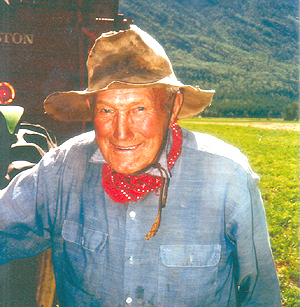 (now an island about 1 1/2 mile above the Copeland Bridge) to Finnish emigrants Mattias and Maria Ripatti. He attended Copeland grade school, where he learned to speak English, and then later Bonners Ferry High School, graduating in 1932. He attended Gonzaga University for one year on a football scholarship, where he studied electrical engineering. He then returned to the Ripatti family farm at Copeland in 1938, where he raised cattle and hay with his brother, Herman.
During WWII he stayed home to take care of the family ranch and his parents while his brother went to Australia to serve in the Pacific Theater.
In 1946 he married June Collins, whom he had met at the Copeland dances. They soon had three children; Danette, Mike and Steve, in rapid order and lived along the river in a small house in Drainage District 6 about three miles downstream from the original homestead.
There he raised cattle and hay during the summer and fished commercially for ling on the river's ice during the winter. In 1956 he moved his family away from the river across the valley to their house on the hill to escape the high-water during spring run off. There he resided until his death, continuing to ranch, farm and raise an enormous garden through the age of 91.
He was preceded in death by his parents, Mattias and Maria; brothers Evald and Herman, and sisters Lina (Ripatti) Lefebrve and Olga (Ripatti) Shields. He is survived by his wife, June; children Danette, Mike and Steve; five grandchildren and two great-grandchildren.
Originally published on the website - Kootenai Valley Press - March 11, 2005
http://kvpress.com/obituaries/2005/0306ripatti.htm