George W. Pinsonneault 1919 - 2004
Major George W. Pinsonneault, U.S. Air Force Retired, 85, passed away at his Bonners Ferry home July 3, 2004 after an extended illness. Mass of Christian Burial will be held on Saturday, July 10, 2004 at 11 a.m. at St. Ann's Catholic Church in Bonners Ferry. Private internment will be in the Grandview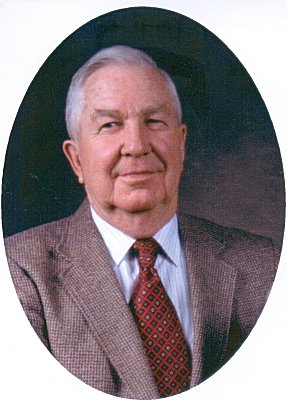 Cemetery.
George was born in Smithfield, Rhode Island, to Adelaid (Dell) and Rose (Trudeau) Pinsonneault on February 22, 1919. He received his education in Providence, Rhode Island.
His military career began in December of 1937 enlisting in the U.S. Army and serving with the coast artillery, 5th Army, Fort Wadsworth, New York, and the Panama Canal. During World War II he entered the Aviation Cadet program and served as a P-47 fighter-bomber pilot. As a reservist he was called for active duty during the Korean Conflict and the Vietnam War as a communications officer.
A second career began with Pacific Bell Telephone Company in California, later transferring with General Telephone Company to Sandpoint as District Equipment Supervisor. He retired from G.T.E. in April, 1977.
On April 26, 1974, George and Patricia O'Malley were married in Sandpoint, where they were both employed. After his retirement from G.T.E., they moved to Boundary County to enjoy their retirement years. George loved his family, traveling, music, golf and flying.
He was a member of the Elks Lodge serving as an Exalted Ruler of Sandpoint Lodge #1376, the V.F.W., the American Legion and a member of St. Ann's Catholic Church.
He is survived by his wife; daughters Elaine Amaral and husband Syl, Rehoboth, Massachusetts, Michelle Willis and husband Allen, Grangeville, Idaho, and Denise Dickison and husband Jim, Olympia, Washington, and sons George P. Pinsonneault and wife Ninamae, Sagle, Idaho, and Michael Dosdourian and wife Diane, Whittier, California, and step-son Jonathan O'Malley of Spokane, WA. George has 23 grandchildren and six great-grandchildren.
George was preceded in death by his parents, brothers Paul, Delmont, Patrick, Henry and Charles Pinsonneault.
The family suggests memorials be made to St. Ann's Church, 6712 El Paso, Bonners Ferry, ID 83805 or Bonner Community Hospice, P.O. Box 1448, Sandpoint, Idaho.
Originally published on the website - Kootenai Valley Press
kvpress.com/obituaries/040703pinsonneault.htm