Geneva Goldie (Swain) Nelson
Bonners Ferry Herald - August 26, 2004
Graveside services will be held at Grandview Cemetery at 10 a.m. Saturday, August 21, for Geneva Goldie (Swain) Nelson, 97, who died August 17, 2004, at the Good Samaritan Society in Greenacres, Washington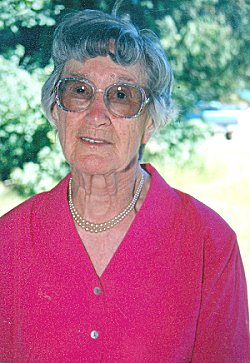 .
Geneva was born in Walthill, Nebraska, March 14, 1907, to Samuel and Epilonea (Rose) Swain. She married Bertel Laurence "Bert" Nelson June 15, 1926, in Sidney, Nebraska. They moved from Nebraska to Bonners Ferry in 1934.
Throughout her life she remained at home, raising and caring for her family. Her husband preceded her in death November 28, 1986. She moved to Spokane in 1992, and resided at the Good Samaritan complex until her death.
Geneva was a member of the Eastern Star, Moyie Chapter #31. She enjoyed the outdoors, hunting and fishing, playing the piano, painting, drawing, knitting and crocheting. Most of all, she loved her children and grandchildren.
She is survived by children Lola Fay and George Saylor, Kamiah, Idaho, Robert Omer and Patricia Nelson, Bonners Ferry, Richard Lee and Ida Nelson, Sandpoint, Clara Lou and Don Zachary, Spokane Valley, Edward Laurence and Renee Nelson, Bonners Ferry, Noma Jeanene and Keith McDaniel, Lostine, Oregon, 20 grandchildren, 34 great grandchildren and six great-great grandchildren. Her son, Ray Alden Nelson, preceded her in death November 18, 1989, and she was also preceded in death by three grandchildren and one daughter-in-law.