Cecil LaDue Morris - February 28, 1932 - June 23, 2002
published: Bonners Ferry Herald, June 27, 2002
Cecil La Due Morris died on June 23, 2002. He had been receiving care for kidney failure at Kootenai Medical Center since June 17. He received good care there and the family is grateful for the compassion he was given.
Cecil's parents, John and Lela Morris, farmed and raised cattle near Port Hill, Idaho. After graduating from the University of Idaho with a Bachelor of Science in Agriculture, he served in the U.S. Army, completing a tour of duty in Korea. Lela passed away in 1981 and John died in 1993.
Cecil, with the help of his parents, purchased and while he was still in high school (1951). He added acreage to his farm and ranch on a regular basis. He would purchase forested land and then log the timber himself, using his D-8 Cat to level the land so that he could grow alfalfa and grains to feed his cattle.
He cut Christmas trees from his forested land and contracted with private timber companies to think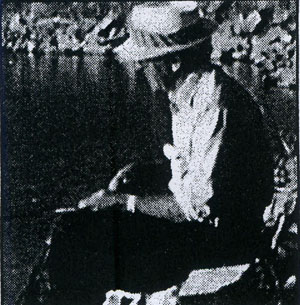 mountain areas in exchange for harvesting alpine fir in Christmas trees. His trees have brought much joy to homes throughout the Inland Northwest.
He married Myrtle Morris in 1961 and adopted her twins, Randy and Cindy. Myrtle had two children with Cecil, Dan who died in 1969 after only 20 days of life, and Mark, who died in a car wreck on Rock Creek in 1980. Cecil and Myrtle created a scholarship fund at Bonners Ferry High School in Mark's memory.
Cecil enjoyed hunting and fishing, (especially elk hunting and kokanee fishing), huckleberrying and mushrooming with family and friends. He enjoyed bowling, playing pinochle, and he loved to dance. He was known to take a sip (or two) of whiskey at the dances at the Copeland Hall or Jack's Club in Bonners Ferry. Some of his self-reported bowling scores were suspect.
Cecil has five grandchildren who he gave nicknames such as "Andy," "Squirt," "Corny" and "Bert" He would carry them around on his shoulder and sing "Here Comes Peter Cottontail" in a voice that only the children could enjoy or even tolerate.
Twenty-one nephews and nieces have lasting memories of going to Port Hill to "help with farming" during the summers. Rumor has it that keeping watch on them was more work than the amount of work they performed! Cecil enjoyed his children, grandchildren, nephews and nieces.
Cecil was quick to help neighbors and friends to build their barns and homes, gather the winter's firewood or help with their farming problems. He was .called on and responded to help repair the dikes when the Kootenai River threatened to overflow the banks.
Cecil and Myrtle were divorced in 1996. For the the last several years, he had been cared for by Virginia Fox-Moore, due to developing dementia and delusional disorders. The "old Cecil" who we loved so has been missed for many years. The family is grateful for Virginia for her patience and excellent care of Cecil.
Cecil is survived by three sisters who will miss him greatly; Juanita, married to Jerry McGraw of Camas, Wash.; Lois, married to Don Perry of Modesto, Calif.; and Barbara Johanson of Bellevue, Wash. His sister Edith Walton died in 1992.
His funeral is scheduled for Friday, June 28 at 10 a.m. Services will be held at the Bonners Ferry Funeral Home. The burial service for Cecil will follow a'the Port Hill Cemetery. The family requests that donations or memorials be given to the giver's chosen charity.