Peder Miller, 88
Published in the Bonners Ferry Herald June 2, 2005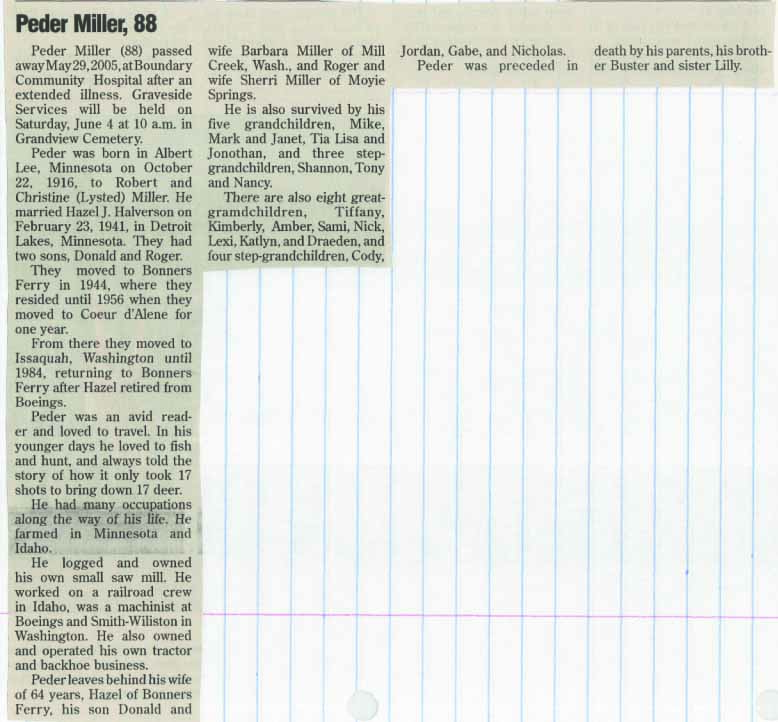 Another version was published on the website - Kootenai Valley Press - July 31, 2005
http://www.kvpress.com/obituaries/2005/0529miller.htm
Peder Miller, 88, passed away May 29, 2005, at Boundary Community Hospital after an extended illness. Graveside Services will be held at 10 a.m. Saturday, June 4, in Grandview Cemetery in Bonners Ferry.
Peder was born in Albert Lee, Minnesota on October 22, 1916, to Robert and Christine (Lysted) Miller. He married Hazel J. Halverson on February 23, 1941, in Detroit Lakes, Minnesota. They had two sons, Donald and Roger.
They moved to Bonners Ferry in 1944, where they resided until 1956 when they moved to Coeur d'Alene for one year. From there they moved to Issaquah, Washington, until 1984, returning to Bonners Ferry after Hazel retired from Boeing.
Peder was an avid reader and loved to travel. In his younger days he loved to fish and hunt, and always told the story of how it only took 17 shots to bring down 17 deer.
He had many occupations along the way of his life. He farmed in Minnesota and Idaho. He logged and owned his own small saw mill. He worked on a railroad crew in Idaho, was a machinist at Boeing and Smith-Wiliston in Washington. He also owned and operated his own tractor and backhoe business.
Peder leaves behind his wife of 64 years, Hazel, Bonners Ferry, his son Donald and wife Barbara Miller of Mill Creek, Washington, and Roger and wife Sherri Miller of Moyie Springs.
He is also survived by his five grandchildren; Mike, Mark and Janet, Tia Lisa and Jonothan, and three step-grandchildren, Shannon, Tony and Nancy. There are also eight great-grandchildren; Tiffany, Kimberly, Amber, Sami, Nick, Lexi, Katlyn, and Draeden, and four step-grandchildren, Cody, Jordan, Gabe, and Nicholas.
Peder was preceded in death by his parents, his brother Buster and sister Lilly.