George H Miller April 26, 1886 - January 25, 1972
Bonners Ferry Herald - January 27, 1972

George Harvey Miller, an 85 years old longtime Boundary County resident passed away at the county Nursing Wing Tuesday evening Jan. 25, following a lingering illness.
He was born April 26, 1886 at Eagle, Nebraska and following his education he married.
He was preceded in death by his first wife.
About 1904 he moved to Montana where he homesteaded near Haxby. He operated the homstead as well as doing construction work on the Fort Peck Dam.
In 1936 he married Ellen Morgan at Haxby, Mont. and they made a home there until 1940 when he moved with his wife to Boundary County where he worked as a creamery worker and in logging.
He was preceded in death by his wife on December 5, 1970. He was a member of the Christian Non-denominational Church.
Survivors include three sons, Rex, Sacramento, Cal., William, Long Beach, Cal., Charles L., Atascadero, Cal.; a daughter, Mrs. Lucille McKelvey, Atascadero, Cal., a brother, Richard, Grantsdale, Mont., nine grandchildren and eight great grandchildren.
Funeral services will be conducted Saturday, Jan. 29, at 2:00 p.m. at Malone Funeral Chapel, (South Hill Bible Church) with Everett Swanson officiating.
Internment, under the direction of the Malone Funeral Home, will be in Grandview Cemetery.
Friends may call at Malone Funeral Home Friday afternoon and evening.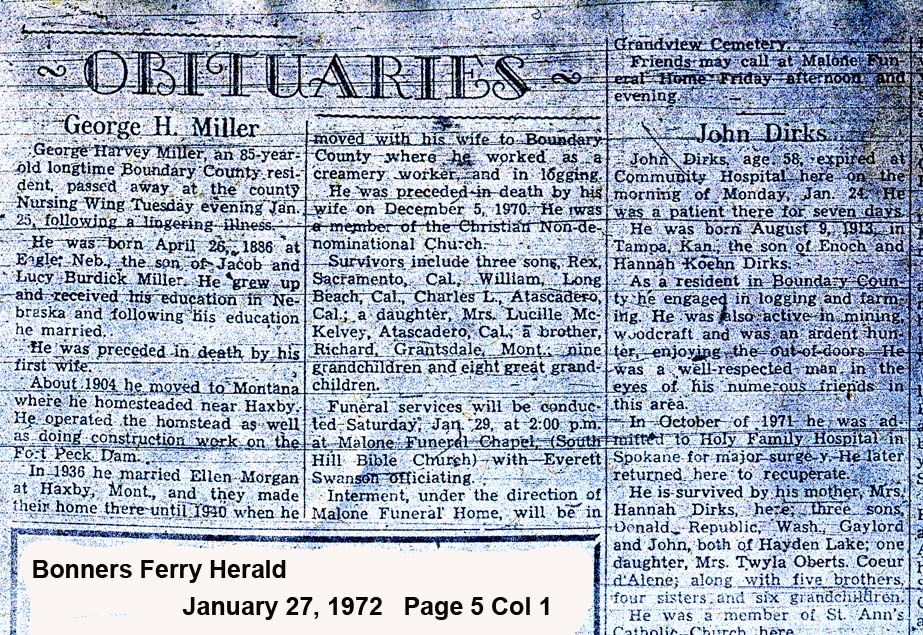 Death Record Book # 82-7 (Twila Stone Boundary County Death Index)