Ellen Esther Miller February 4, 1885 - December 5, 1970
Bonners Ferry Herald - Dec. 10 1970

Mrs. George (Ellen Esther) Miller, 85-year old resident of the past 30 years passed away at her home on the North Bench early Saturday morning, Dec 5, following a short illness.
She was born Feb 4, 1885, at Ottowa, Ill. the daughter of Louis and Ellen Mutchmore Lerette. At 12 years of age she moved with her parents to Wisconsin where she received her education. Following her education she married Everett Morgan in Wisconsin and in 1917 moved with her family to Valley County, Mont., where Mr. Morgan operated a ranch until his death in 1936.
Following the death of her husband she continued to live on the ranch and on Dec. 15, 1936 married George H. Miller at Glasgow, Mont. She made her home there until 1940 when she moved with her husband to Bonners Ferry and purchased a small ranch on the North Bench where she resided at the time of her death, She was a member of the Christian Non-denominational Church.
Her survivors include her husband, George H. Miller, at the home, two daughters, Miss Geneva Morgan, also Bonners Ferry, and Mrs. Stella Delaney, Paris, Mo., six grandchildren and numerous great grandchildren.
Funeral services were conducted at 1:00 p.m., Wednesday, Dec. 9, at Hillcrest Memorial Chapel with Everett Wilcox officiating. Internment, under the direction of Hilcrest Memorial Chapel was in the Grandviw Cemetery.
Mrs. Jack Hummell and Mrs. William Nelson sang "Alone With God" and "Only One Life" and were accompanied by Mrs. Arthur Campbell, organist.
Pallbearers were Donald C. Baker, Ervin Madson, Jack Hummell, Carl Nunz, William Chappell, and F.E. Vinion.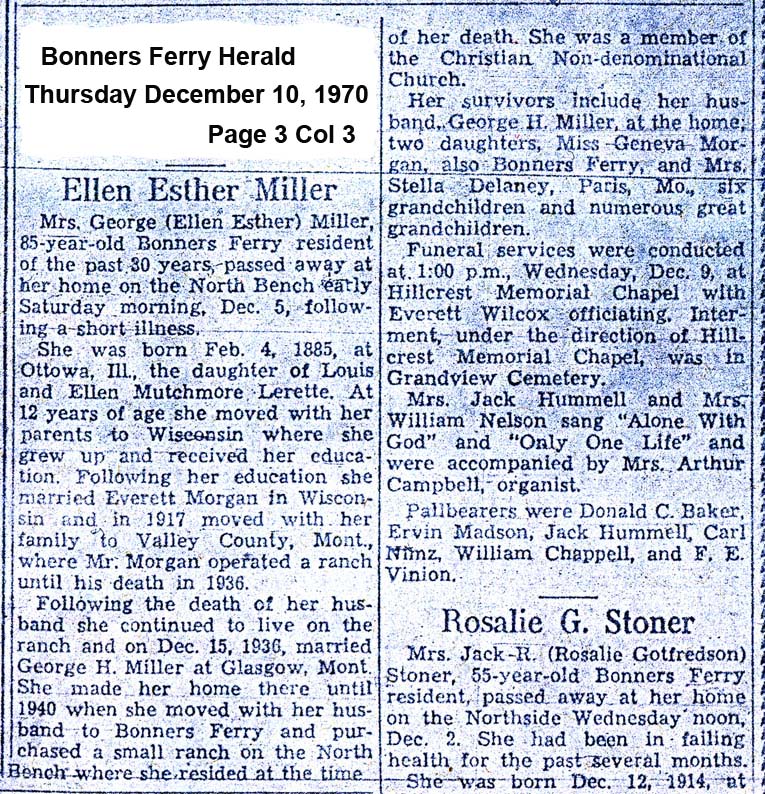 Death Record Book # 80-51 (Twila Stone Boundary County Death Index)