Anna Marie Hylton Meyer - Feb. 14, 1965 - April 27, 2005
published: Bonners Ferry Herald May 12, 2005
Anna Meyer, 40
Anna Marie Hylton Meyer died Wednesday, April 27,2005, She was 40.
Born Feb. 14, 1965, in Bonners Ferry, Anna went on to graduate from Bonners Ferry High School.
She married Marshall Meyer on Aug. 22, 1992, in Post Falls, and later gave birth to their son,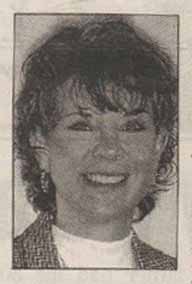 Jacob, who is now 10.
Anna began her career as an advertising account executive with the Hagadone Corporation in 1988 and worked at the Coeur d'Alene Press since 1990.
She loved to dance and snow ski, and she enjoyed all outdoor activities. A member of her high school jazz band, Anna loved to sing and play guitar and banjo.
Anna fought a courageous battle with cancer since 2001 and was an inspiration to friends and family. She was a member of Real Life Ministries Church and enjoyed her fellowship and walk with Christ. Her faith was the strength that carried her through her battle with cancer.
Anna is survived by her husband, Marshall, their son Jacob, 10, both ofCoeur d'Alene, and her stepson, Tim Fredericks, Winloch, Wash.; mother Ethel Reyburn Hylton, Coeur d'Alene; father Harian Hylton and wife Lucille, Sandpoint, sister Wanda Hylton and her children, Jonathan and Claire, Post Falls; great-aunt "Grandmother" Anna Marie Hylton, Spokane; and numerous cousins.
She is also survived by her mother- and father-in-law, Claudia and Jim Meyer of Spirit Lake: brother-in-law Mitch and Mary Meyer and their children Joshua, Justin and Jessica, Rohnert Park, Calif,; sister-in-law Jeanne and Gary Platonoff and son Nicolai, Los Gatos, Calif.
Anna was preceded in death by her brother, Darrell Lee Hylton, and grandparents Wade and Clara Reyburn.
Memorial services were 11 a.m. May 3 at Real Life Ministries, 1866 N. Cecil Road, Post Falls. There was be a fellowship at the church immediately following the service.
Memorials may be made to the oncology center at Kootenai Medical Center.