Dorothea Mildred Mesenbrink, 96
Dorothea Mildred LaFountain Mesenbrink, 96, passed away on April 20, 2005, at the Boundary Community Hospital Extended Care Facility. Funeral Services will be held at 2 p.m. Sunday, April 23, at the Free Methodist Church in Bonners Ferry, with internment in Grandview Cemetery.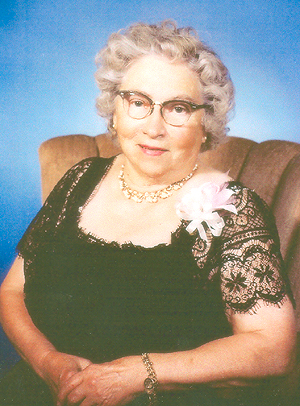 Dorothea was born in Copperhill, California, June 10, 1909, to Joseph Nelson LaFountain and Edna Rorick LaFountain.
Her parents divorced when she was very young and she lived with her mother and stepfather in San Francisco, then on to Salt Lake City, Denver, Chicago, and Cleveland. Her mother succumbed to the flu in 1918 and her stepfather took her to live with her grandparents for six and a half years on a farm near Bentley, Alberta, Canada.
To preserve her U.S. citizenship, her grandparents sent her back to the United States in February, 1926, to be with her father, Joe, on his homestead wheat farm in eastern Montana. There she met and married John A. Mesenbrink on September 13, 1926.
After farming in Montana for a few years they sold out and moved to Idaho, looking for a better climate and more abundant water. They found it in the Skin Creek area in eastern Boundary County and farmed there until the 1960s.
Dad became ill, so they sold the farm and moved to the Bay Area in California to provide a home for their son, Joe, while he attended college.
They moved back to Idaho in 1975, where she and John settled down for good in Moyie Springs.
In a lifetime that spanned horse and buggy travel to rockets into space, she was an active participant. She raised four boys, helped farm, particularly the animal care end, gardened, maintained the household, immersed herself in civic activities including but not limited to Odd Fellow Rebekah Lodge, Extension Club, 4-H Club leadership, the first Library Board, the first Planning and Zoning Board, numerous charity drives, school PTA, and a multitude of hobbies to fill up her spare time.
She was preceded in death by her husband John, her oldest son Eugene, and grandson Jeffrey. She is survived by her sons Rene, Herman and Joe, all of Moyie Springs, 15 grandchildren and
26 great grandchildren.
She made the world a better place and we will miss her greatly.
Originally published on the website - Kootenai Valley Press - July 31, 2005
http://www.kvpress.com/obituaries/2005/0420mesenbrink.htm