Carole Peterson Merrifield
Published in the Bonners Ferry Herald January 27, 2005
On January 22, 2005, our mother and best friend, Carole Merrifield, left this world to go to a better place. She will now share her big heart with everyone there in heaven. Services will be held at 1 p.m. Friday, January 28, at Trinity Lutheran Church in Bonners Ferry. A potluck will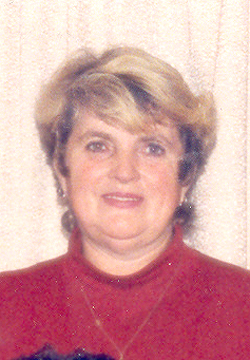 follow at the hostel in Naples, Idaho.
Carole was born in Kellogg, Idaho to Walter and Lorraine Peterson on August 5, 1943. She spent her childhood growing up in the Silver Valley, in the Big Creek area near the Sunshine Mine. She attended grade schools there in, and graduated eighth grade from a catholic school there in Wallace, Idaho. She graduated from high school in Kellogg, Idaho. After high school, she met Russell Merrifield, and they were married on March 2, 1962 and made their home in Bonners Ferry, Idaho. They had four children, Kim, Rusty, Wally, and Mark Merrifield, all of Bonners Ferry. Carole worked at several jobs around the county. But the one she loved the most was doing in home care. She loved taking care of people, and was great at it.
She is survived by her father, Walter Peterson of Kellogg, Idaho. Three brothers and their wives, Denny and Jan Peterson of Kellogg, Idaho, Terry Peterson also of Kellogg, and Rick and Terri Peterson of Elko, Nevada, and several nieces and nephews. She will be most missed by all of her family, Russell Merrifield, of Bonners Ferry, her four children, Kim, Rusty, Wally, and Mark. Nine grandchildren: Summer Haworth of Eugene, Oregon, Kevin and Mandy Haworth of Bonners Ferry, Sawyer, Miranda, Derek, Mikael, Matt, and Mason Merrifield all of Bonners Ferry, and two great grandchildren, Devan Skeehan, and Kadence Marble.
Carole was preceded in death by her mother, Lorraine Peterson.
Carole will be missed greatly by her family and friends, and as her grandkids put it "she was the greatest grandma in the world."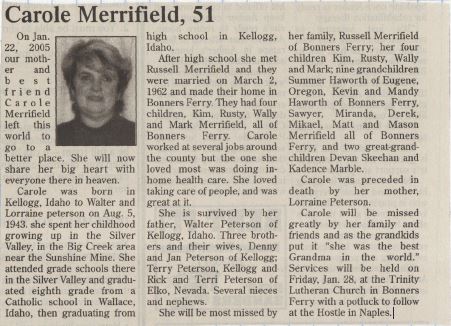 Another version was published on the website - Kootenai Valley Press - July 31, 2005
www.kvpress.com/obituaries/2005/0122merrifield.htm