Wallace (Wally) Marion Melior, 95
Published in the Bonners Ferry Herald Sept 8, 2005

And published in the Bonners Ferry Herald Sept 15, 2005 page 2a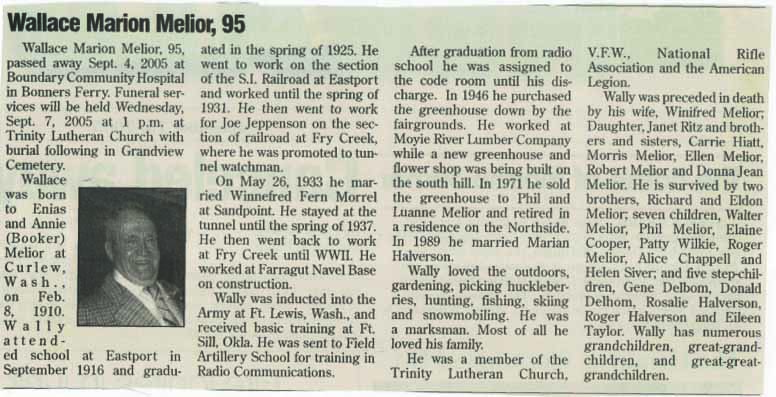 Another version was published on the website - Kootenai Valley Press - Sept. 6, 2005
http://www.kvpress.com/obituaries/2005/0904melior.htm
Wallace Marion Melior, 95, passed away September 4, 2005, at the Community Hospital in Bonners Ferry. Funeral services were held September 7 at Trinity Lutheran Church and burial followed in the Grandview Cemetery.
Wallace was born to Enias and Annie (Booker) Melior at Curlew, Washington, on February 8, 1910. He attended school at Eastport in September, 1916, and graduated in the spring of 1925. He went to work on the section of the S.I. Railroad at Eastport and worked until the spring of 1931. He then went to work for Joe Jeppenson on the section of railroad at Fry Creek, where he was promoted to tunnel watchman.
On May 26, 1933, he married Winnefred Fern Morrel in Sandpoint. He stayed at the tunnel until the spring of 1937 and then went back to work at Fry Creek until World War II when he worked at Farrigut Navel Base on construction.
Wally was inducted into the Army at Ft. Lewis, Washington, and received basic training at Ft. Sill, Oklahoma. He was sent to field artillery school for training in radio communications. After graduation from radio school he was assigned to the code room until his discharge.
In 1946, he purchased the greenhouse down by the fairgrounds. He worked at Moyie River Lumber Company while a new greenhouse and flower shop was being built on the south hill. In 1971 he sold the greenhouse to Phil and Luanne Melior and retired in a residence on the Northside. In 1989 he married Marian Halverson.
Wally loved the outdoors, gardening, picking huckleberries, hunting, fishing, skiing and snowmobiling. He was a marksman.
Most of all he loved his family.
He was a member of Trinity Lutheran Church, V.F.W., National Rifle Association and the American Legion.
Wally was preceded in death by his wife, Winifred Melior; daughter Janet Ritz and brothers and sisters Carrie Hiatt, Morris Melior, Ellen Melior, Robert Melior and Donna Jean Melior.
He is survived by two brothers, Richard and Eldon Melior; seven children, Walter Melior, Phil Melior, Elaine Cooper, Patty Wilkie, Roger Melior, Alice Chappell and Helen Siver; and step-children Gene Delbom, Donald Delhom, Rosalie Halverson, Roger Halverson and Eileen Taylor. Wally has numerous grandchildren, great-grandchildren, and great-great-grandchildren.