Erick Lundin
published - Pend Oreille Review, July 23th 1915 - Page1 Col 6
NAPLES MAN VICTIM OF PLEURISY
Erick Lundin of Naples Passes Away
Tuesday Night.
Erick Lundin, of Naples, died at the City hospital late Tuesday evening from pleurisy. He had been under treatment at the hospital for about two weeks and little hope for his recovery was held out during the last week of his life.
The deceased was a well known resident of the Highland Flat neighborhood northwest of Naples where he owned a large farm. He had been a resident of that place for many years and was well known throughout the valley as an industrious and up-to-date farmer. During the past few years, however, he had left the management of the farm almost entirely in the hands of his son, Amil.
He was 65 years of age and is survived by his wife and a family of full grown children, one of whom, Louis, is postmaster and storekeeper at McArthur.
Funeral services will be held Sunday afternoon at 2 o'clock at the Mc Arthur school house, the Rev. George Bray officiating.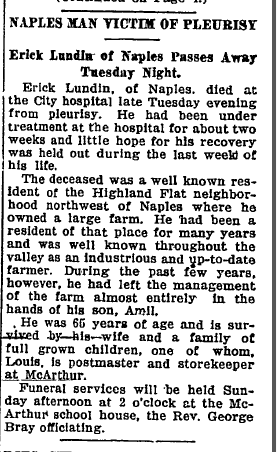 published - Northern Idaho News, July 27th 1915 - Page3 Col 4
Dies of Pleurisy

Erick Lundin of McArthur died
from pleurisy late last Wednesday
night at the City hospital. He had
been brought down from' McArthur
a couple of weeks preceding. He
was a native of Sweden. 65 years old
and is survived by a wife and grown
family, one of his sons .being the
well known storekeeper at McArthur.
The body was kept at the
Brower undertaking parlors "till
Sunday when It was shipped to McArthur
for interment, the Rev. Geo.
Bray of this city conducting the burial services.