Mary Ann (Zondervan-Droz) Luedtke
Bonners Ferry Herald - July 29, 2004
Mary Ann (Zondervan-Droz) Luedtke, 77, died suddenly at her home near Eastport July 19. Funeral services will be held at 10 a.m. Saturday, July 31, at Wellsprings Community Church, Bonners Ferry.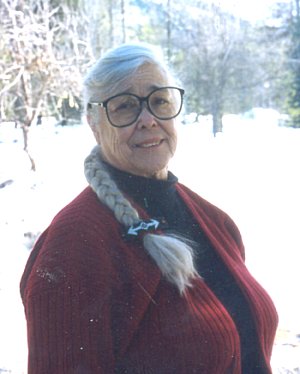 Mary Ann was born in Monroe, Iowa, April 30, 1927, the third of three girls; Zoe, Zada and Mary Ann. Her parents moved to Pleasantville, Iowa, where she completed elementary school and high school and worked in the family restaurant. While in high school, Mary Ann became interested in drama and speech, and she competed in a state-wide declamatory contest, finish second. She was also active in school sports.
She married Richard Luedtke in May, 1944, a year before Richard earned his degree in veterinary medicine from Iowa State University. They moved to Cicero, Illinois, and spent three years in a small animal clinic before they moved to Antioch, Illinois, where Richard spent two years working a a large animal practice. They then established a veterinary practice in Oregon, Illinois, building and running the Pines Meadow Veterinary Clinic, which remains in operation.
While in Oregon, Illinois, Mary Ann raised their daughter, Leslie, and had two more children, Leah and Jason. Even with the children and with a practice to help run, she chaired several committees in support of the local school system and was one of the several women who established a woman's organization called the PEO. She served as a Republican Precinct Committee person, and co-chaired the Republican Women's County Organization.
In 1963, they sold the veterinary practice and moved to Coeur d'Alene, where Richard accepted a field position with the U.S. Department of Agriculture. While in Coeur d'Alene, Mary Ann decided to challenge herself by doing some college course work. Despite her concerns she wouldn't be capable, she tried anyway. She took an intelligence test, and ranked at the genius level and received an application from MENSA. That gave her confidence to take and pass her college entrance exam, and after two years at North Idaho College, she transferred to Gonzaga University, where she earned her Bachelors Degree in English and Humanities. She went on to earn her Master's degree while teaching English at Coeur d'Alene Mid-High and High School.
She went on to chair the English Department at Coeur d'Alene High School.
In 1974, with Leslie, Leah and Jason grown up, Richard accepted a position in with the USDA regional office in Alameda, California, and Mary Ann went to work in the English Department at St. Joseph's Notre Dame, a Catholic high school there. After Richard's retirement in 1989, they moved to Boundary County and the Welcome Ranch, which they'd established while living in Coeur d'Alene.
Mary Ann taught Honors English at Bonners Ferry High School, where she was recognized during an assembly as Outstanding Teacher. Outside of school, she remained active as well, serving as president of the Boundary County Education Association and as a long-time member of the Boundary County Planning and Zoning Commission.
After her retirement from teaching, she became active in the Republican Central Committee, serving as a precinct committeeman, then as chairman of the Republican Party District 1. She served as a delegate to the state Republican Convention in 2003 and 2004, and served as secretary to the Boundary County Republican Central Committee.
As a retired teacher, Mary Ann missed her association with students, her teacher friends and colleagues and the other employees of the school. She remained active in community service, and stayed in touch with many former colleagues and students.
Mary Ann will be remembered as a teacher, friend, colleague, mentor, advocate and agent of change. The Mary Ann Luedtke Memorial Fund has been established at the Boundary County Library, and contributions made in her memory will be used to enhance the library's collection of children's literature to promote the love of reading from an early age.