William M. (Bill) Loughery, 90
Bonners Ferry Herald January 20, 2005
William "Bill" Michael Loughery, 90, passed away at his Naples area home on January 15, 2005, after an extended illness. Funeral Services will be held at 2 p.m. Friday, January 21, at the Free Methodist Church in Bonners Ferry, with private internment in the White Pine Cemetery at Tr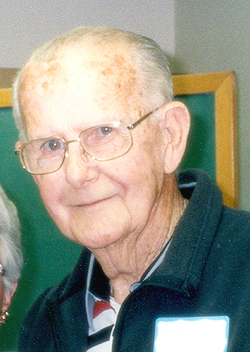 out Creek, Montana.
Bill was born January 9, 1915, in Oakland, California, to Jim and Elizabeth Loughery.
He received his education at St. Mary's High School in Oakland, California. While in school he boxed, swam and played football. After his graduation he worked in a steel mill and on the construction of the Oakland Bay Bridge.
On October 19, 1941, he married Ruth M. Lauer in Long Beach, California. They resided and raised their two sons there. He enlisted in the US Marine Corps during WWII until he was medically discharged. Bill worked as a master carpenter and contractor. They were active in A.A., hosting home family meetings for 18 years. He was active in the Boy Scouts, serving as a troop leader for several years.
Bill and Ruth moved to Naples in 1971 where Bill worked as a building contractor. He loved fishing, boating, bowling, camping and especially loved his time spent with his grandchildren. He will be remembered for his great sense of humor.
Survivors include his wife of 63 years, Ruth, Naples; son Michael Loughery and wife Dianna, San Ramon, California; daughter-in-law Thea Loughery, Spokane Valley, Washington; grandchildren Patrick Loughery and wife Shannon, North Bend, Washington; Kyle Loughery and wife Jenny, Cheney, Washington; Bryce Loughery and wife Cheryl, Danville, California; Kim Loughery, Walnut Creek, California; Missy Wells and husband Charlie, Green Acres, Washington; and great grandchildren Keenan, Riley, Kaileigh, Taylor, John Michael and Kristopher.
His son, Dan, his parents, two brothers and two sisters preceded him in death.
The family suggest memorials be sent the Hospice of Boundary and Bonner Counties in Bill's name.