Ralph Vernon Langford, Jr., 42
Published in the Bonners Ferry Herald June 16, 2005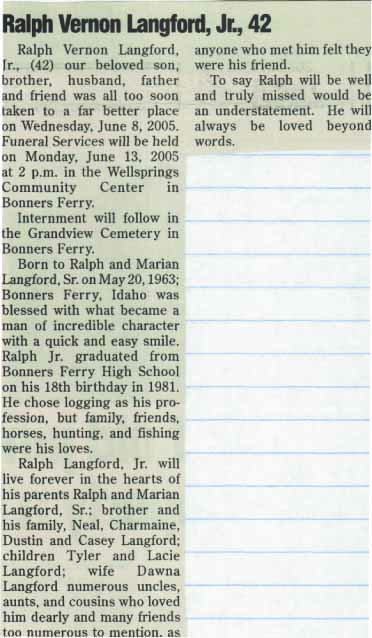 Another version was published on the website - Kootenai Valley Press - July 31, 2005
http://www.kvpress.com/obituaries/2005/0608langford.htm
Ralph Vernon Langford, Jr., 42, our beloved son, brother, husband, father and friend was all too soon taken to a far better place on Wednesday, June 8, 2005. Funeral Services will be held at 2 p.m. Monday, June 13, at the Wellsprings Community Center in Bonners Ferry. Internment will follow in the Grandview Cemetery in Bonners Ferry.
Born to Ralph and Marian Langford, Sr. on May 20, 1963, in Bonners Ferry, the community was blessed with what became a man of incredible character with a quick and easy smile.
Ralph Jr. graduated from Bonners Ferry High School on his 18th birthday in 1981. He chose logging as his profession, but family, friends, horses, hunting, and fishing were his loves.
Ralph Langford, Jr. will live forever in the hearts of his parents Ralph and Marian Langford, Sr.; brother and his family, Neal, Charmaine, Dustin and Casey Langford; children Tyler and Lacie Langford; wife Dawna Langford numerous uncles, aunts, and cousins who loved him dearly and many friends too numerous to mention, as anyone who met him felt they were his friend.
To say Ralph will be well and truly missed would be an understatement. He will always be loved beyond words.