Jean Paula LaBurn
Published in the Bonners Ferry Herald April 21, 2005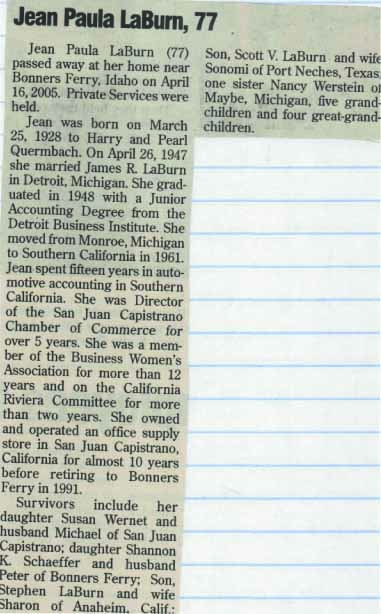 Another version was published on the website - Kootenai Valley Press - July 31, 2005
http://www.kvpress.com/obituaries/2005/0416laburn.htm
Jean Paula LaBurn, 77, passed away at her home near Bonners Ferry on April 16, 2005. Private Services were held.
Jean was born on March 25, 1928, to Harry and Pearl Quermbach . On April 26, 1947, she married James R. LaBurn in Detroit, Michigan. She graduated in 1948 with a Junior Accounting Degree from the Detroit Business Institute. She moved from Monroe, Michigan to Southern California in 1961.
Jean spent fifteen years in automotive accounting in Southern California. She was Director of the San Juan Capistrano Chamber of Commerce for over five years, a member of the Business Women's Association for over 12 years and on the California Riviera Committee for over two years. She owned and operated an office supply store in San Juan Capistrano, California, for almost 10 years before retiring to Bonners Ferry in 1991.
Survivors include daughters Susan Wernet and husband Michael, San Juan Capistrano, and Shannon K. Schaeffer and husband Peter, Bonners Ferry; sons, Stephen LaBurn and wife Sharon, Anaheim, California, and Scott V. LaBurn and wife Sonomi, Port Neches, Texas, sister Nancy Werstein, Maybe, Michigan, five grandchildren and four great-grandchildren.