Edna E. Isaac, 82
Published: July 10, 2008 Bonners Ferry Herald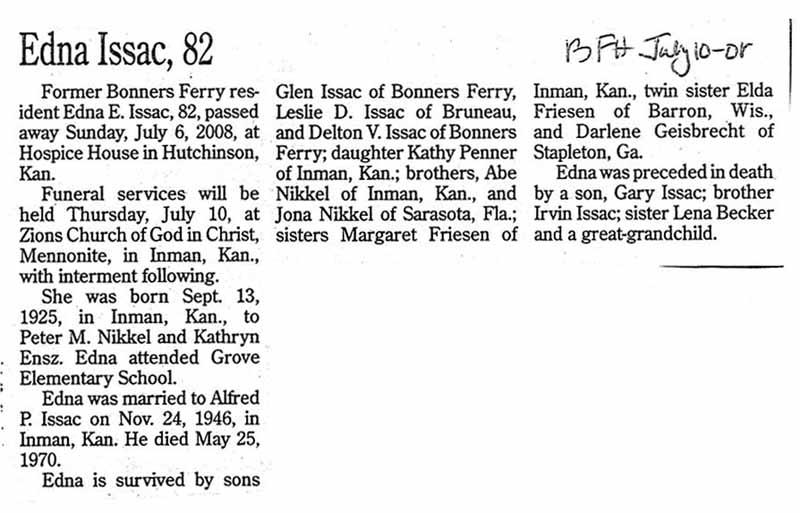 Another version appeared in the Messenger of Truth 2008 Sep 24 p. 13
Edna E. Isaac, 82, of Inman, died Sunday, July 6, 2008, at Hospice House in Hutchinson. She was a homemaker and longtime volunteer at the Inman Senior Center.
The funeral service will be at 10:30 AM, Thursday, July 10, at the Zion Church of God in Christ, Mennonite (rural Inman). Burial will be in the Zion Church Cemetery. Visitation will be from 5:00 to 8:00 PM Wednesday at the church.
Survivors include: three sons, Glen A. Isaac of Bonners Ferry, ID, Leslie D. Isaac of Bruneau, ID, and Delton V. Isaac of Bonners Ferry, ID; a daughter, Kathy Penner of Inman, KS; two brothers, Abe Nikkel of Inman, KS and Jona Nikkel of Sarasota, FL; three sisters, Margaret Friesen of Inman, her twin sister, Elda Friesen of Barron, WI, and Darlene Giesbrecht of Stapleton, GA; 21 grandchildren and 41 great-grandchildren.
She was preceded in death by her parents, Peter and Kathryn (Ensz) Nikkel, her husband, Alfred P. Isaac, a son, Gary Isaac, a brother, Irvin Isaac, a sister, Lena Becker, and a great-granddaughter.
Memorial donations may be given to Hospice of Reno County in care of Stockham Family Funeral Home.