Honey Joy Huseby dies while serving the Lord
By Mike Weland - Kootenai Valley Press - Oct 20, 2004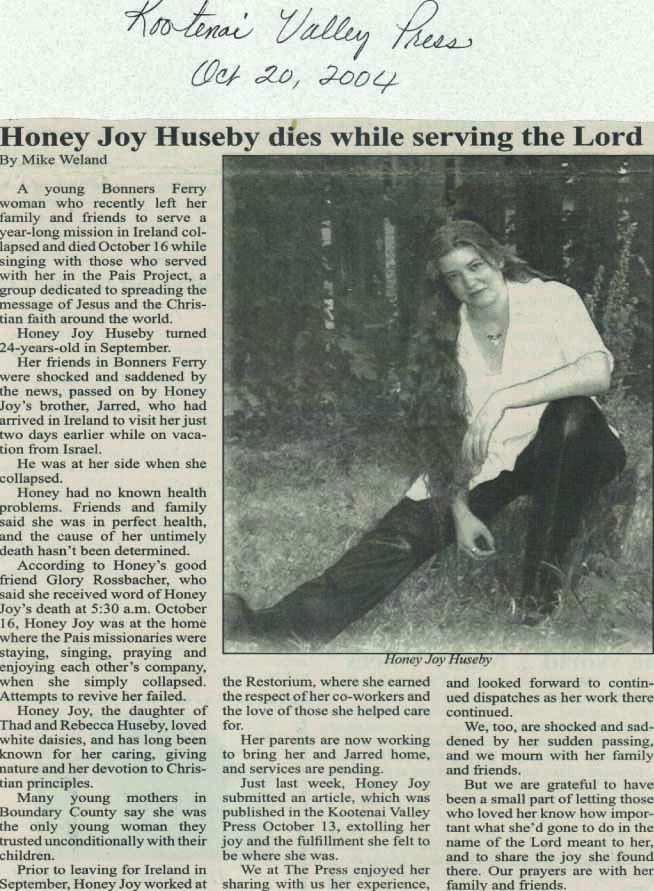 Another obituary appeared online -
Honey Joy Huseby
1980 ~ 2004
Honey Joy Huseby, 24, Bonners Ferry, went to be with the Lord on October 16, 2004 in The Presbyterian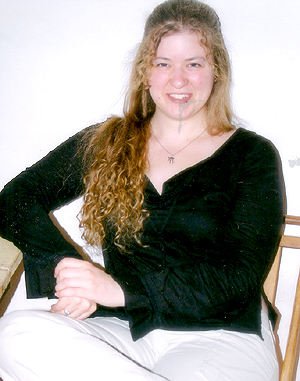 Manse, Portstewart, Ireland. Funeral Services were held Saturday at the Mt. Hall Community Church with internment following in the Paradise Valley Cemetery.
Honey Joy Huseby was born on September 22, 1980, in Polson, Montana, to Thad and Rebecca (Robins) Huseby. Her birth was a miracle and her life was a direct download from Heaven.
As a young child she traveled with her family, working in many churches, youth groups and other Christian programs. At the age of 13, she started her first musical drama team, which she named her "SOS" Team (Signs of Salvation). She felt a call to become a missionary at a very young age and set her course in that direction. Her mother, Rebecca, home schooled her for all 12 grade years, and she maintained a 3.98 grade point average. She and her mother enjoyed many hours of learning and laughing together.
As a young adult, Honey, or "HJ" as many of us called her, continued to use her many talents in music; singing, composing, in Sunday school, training and signing for the hearing impaired at Mt. Hall Community Church.
Her church family will especially miss the person that she was, and was becoming, as she was growing in her walk with the Lord.
Recently, Honey was accepted to a mission program to Northern Ireland. This was one of her greatest desires.
She became involved with "The Pais Project", a Christian organization that takes young people for a 'year out' and trains them to be youth workers. Their mission is to seek and reach young people with the desire to see them become missionaries in their homes, schools and communities and to bridge the gap between schools and the Church.
Honey Joy also enjoyed her horse, Apache, and her dog Nekoda. Along with her family and friends, it was also hard for her to leave them behind to go on this mission trip.
At the age of 24, Honey Joy Huseby, who was a daughter, granddaughter, aunt, niece, and special friend, went to be with her lord and savior on October 16, 2004.
She is survived by her parents, Thad and Rebecca Huseby; her brothers Adam and wife Amber and nephew Kaleb Huseby, and Jarred Huseby; grandparents Pastor Joe and Pat Robins, and many other family and friends, who will miss her special smiles and talented angelic voice.
Remembrances may be made to the Mt. Hall Community Church Memorial Fund in Honey Joy's name.
The family would like to thank all of those who have given so much support and prayers at this time. May God Bless you all.
Originally published on the website - Kootenai Valley Press - October 16, 2004
kvpress.com/obituaries/041016huseby.htm