Robert L. Harvey
Bonners Ferry Herald - January 6, 2005
Robert L. Harvey (Bob) passed away at his home in Moyie Springs Thursday, December 9, after a short illness.
Robert was born to Elsie and Jonas Harvey at Marianna, Pennsylvania, September 7, 1932. His father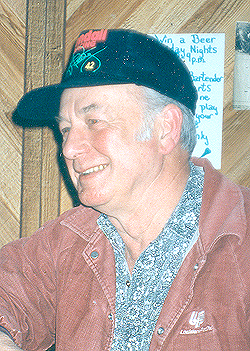 preceded him in death in 1971.
Robert was an avid outdoorsman. He loved fishing, hunting, camping and traveling. Robert was raised on a dairy farm in Scenery Hill, Pennsylvania. He graduated from Ellsworth High School and then enlisted in the Army.
After discharge from the Army he returned to the family farm. Later he worked in the mines in Arizona, Colorado, and Washington. He moved to Moyie Springs in 1975 and went to work as a millwright for Louisiana Pacific and retired as Maintenance Superintendent in 1994.
Robert is survived by his wife, Aletha, in Moyie Springs, his mother in Washington, Pennsylvania and three brothers, Jonas and Barbara Harvey, William and Josie Harvey all of Pennsylvania. Ralph and Vivian Harvey Post Falls; four children Dana and Don Cameron of Moyie Springs, Charles and Lori DeRosier, Mary DeSonia and Randy DeRosier and their children all of Kalispel, Montana, and several nieces and nephews.
He loved family and will be loved and missed by all who knew him. Memorial services will be at the Bonners Ferry Funeral Home Chapel January 8 at 11 a.m.