Isaiah A. Haney was born December 9th 1849 in Coshocton County, Ohio to William and Rebecca Gonsor Haney, he was the first of their ten children, When Isaiah was very young the family moved to the western frontier, settling in Rice County, Minnesota, where November 22nd 1874, he married Ella Minerva Crawford, born 20 Sep 1857 Union Grove, Illinois, to Obediah and Lucinda Fuller Crawford. Ella passed on October 11th 1888 in Todd county, Minnesota.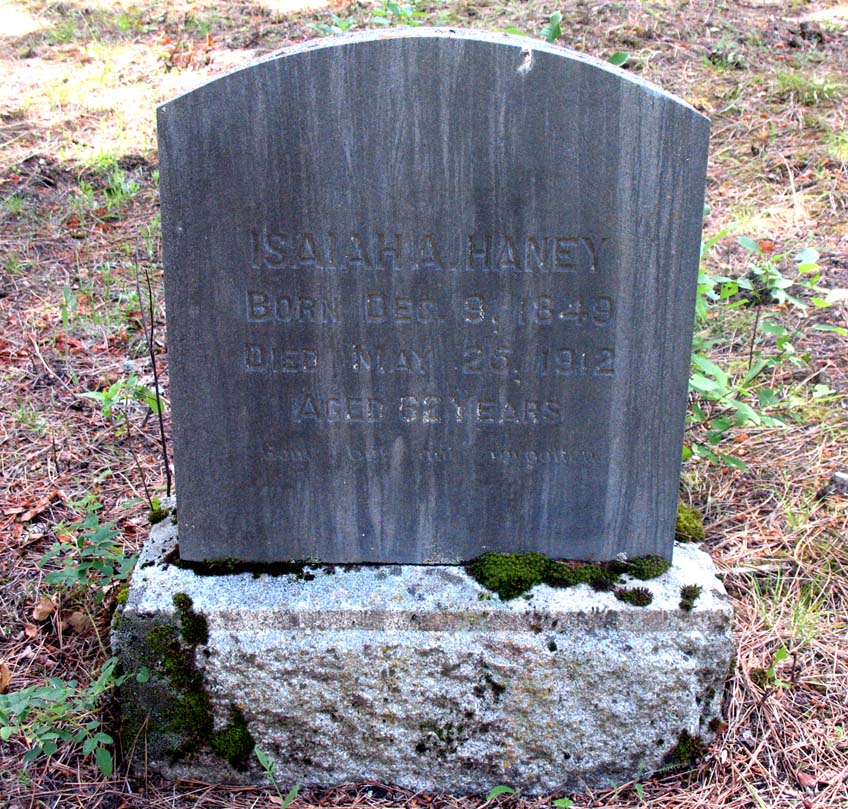 In 1903 Isaiah moved to Idaho with his three children, Ina, Lulu and Orlando, along with his daughter Ina's husband Hamer A Coons and three grandsons, Alvin Ray, Rollo Ransom and Milo Vernon Coons.
published: Pend Oreille Review, May 31, 1912 Page 5

I. A. Haney, who resided of a farm at Elmlra. died at tbat place Sunday. The cause of death was acute nephritis. The deceased was 60 years of age. The funeral was held at Elmlra.
Isaiah A, Haney - December 9th 1849 - May 25, 1912
published: Northern Idaho News, June 4, 1912 Page 10
Card of Thanks
————————————

We wish to thank our friends and
neighbors for their kindness to us
during our recent bereavement.
MRS. H. A. COONS
MRS. J. F. BUSSEY
O. W. HANEY
————————————

Elmira Pioneer Is Dead.
Isaiah A. Haney was born in Ohio December 9, 1849. and died at his home near Elmira. Idaho, on May 25. 1912. aged 62 years , four months and 16 days.
While a young man he removed his home from Ohio to Minnesota and in 1874 was married to Ella M. Crawford who died In 1888. To this union there was born three children, one son and two daughters, all of whom survive him. In 1903 he removed from Minnesota to Elmira where he has since resided. Funeral services were held at Mc Arthur, Idaho, on Monday. May 27, Rev. R. W. King of McArthur officiating.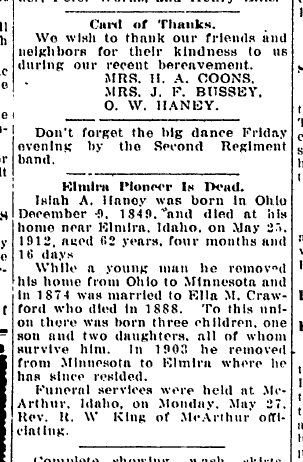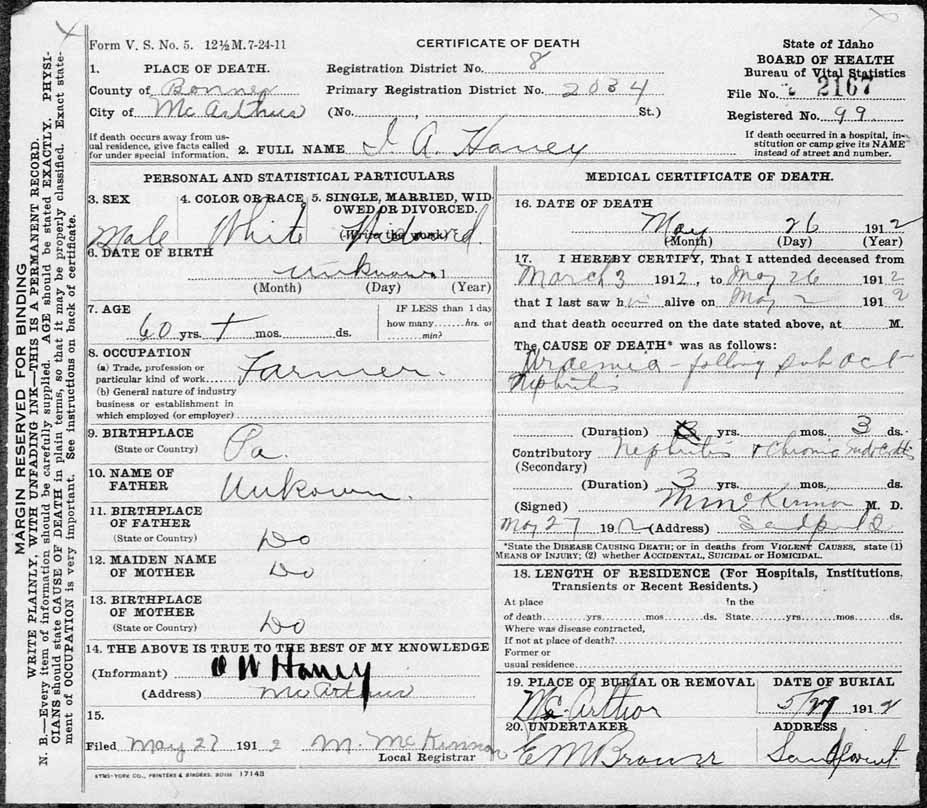 Sources
Ohio, County Marriages, 1789-2013," database with images, FamilySearch ~ https://familysearch.org/ark:/61903/1:1:XZJN-MB3

United States Census, 1850," database with images, FamilySearch ~ https://familysearch.org/ark:/61903/1:1:MX3P-3QP

Minnesota, County Marriages, 1860-1949," database with images, FamilySearch ~ https://familysearch.org/ark:/61903/1:1:Q2MP-BKMS

Minnesota Births and Christenings, 1840-1980," database, FamilySearch ~ https://familysearch.org/ark:/61903/1:1:FDMV-4BQ

Minnesota Deaths and Burials, 1835-1990," database, FamilySearch ~ https://familysearch.org/ark:/61903/1:1:FDS9-R5C

Washington Death Certificates, 1907-1960," database, FamilySearch ~ https://familysearch.org/ark:/61903/1:1:N35V-X6D

United States Census, 1910," database with images, FamilySearch ~ https://familysearch.org/ark:/61903/1:1:MLHJ-63D