Jacob Daniel Greenslitt
Jacob Daniel Greenslitt was born on Aug. 12, 1972 to Jim and Marsha Greenslitt in Astoria, Oregon and passed into the presence of his Lord and Savior, Jesus Christ, on Nov. 7, 2006 at the University of Washington Medical Center after a 10-month battle with cancer. He died with grace, courage and dignity. Jake attended schools in Chicago, Ill., Spokane, Wash., Kettle Falls, Wash., and Bonners Ferry, Idaho. He also attended college at Washington State University and the University of Idaho.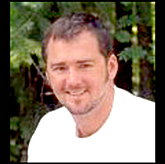 Jake brought a tremendous amount of fun and joy to his family and friends. He had a very strong sense of adventure and a love for life and love for people he met along the way.
In school, Jake was a very good student and did quite well in all of his classes and in band where he played trombone and sax. He also excelled in sports. He loved football, baseball, track and basketball. He made All-state in football and was on a relay track team that won a state title. He also made Eagle Scout under the leadership of Dick Brown and Alva Baker.
After high school, Jake played college football at W.S.U. and the U. of I. where he played defensive end.
After college, Jake went to work for the U. of I. Boosters for about a year. He then moved to Coeur d'Alene, Idaho, Seattle, Wash., and from there to Hawaii.
In Hawaii, Jake worked in the restaurant business and worked himself into management at the Dixie Grill. Every now and then, people from Bonners Ferry would stop by for lunch or dinner and Jake really enjoyed seeing them. (Dinners were on the house for anyone from Bonners Ferry.)
In the summer of 2005, Jake asked a beautiful girl, Marci Joy, to be his wife. She accepted. Jake, however, was diagnosed with Acute Lymphocytic Leukemia in January of 2006. They decided to go forward with the wedding, and in February of 2006 they had a beautiful outside wedding in Hawaii. It was a wonderful time.
Jake asked that his heartfelt thanks be extended to his friends in Bonners Ferry for all their support, cards, e-mails during his final months and for the fund raiser held on his behalf. It was a true blessing to him.
Jake received Jesus as his savior when he was nine or 10 years old and was baptized at Kramer's Stampede Lake. Though his life was a short one, it was lived to the fullest and in the end his heart was opened and touched by the Lord. With his wife, Marci, and his mother at his side, Jake passed from this life into the fullness of heaven with Jesus.
Jake is survived by his wife, Marci; parents Jim and Marsha; sister and brother-in-law Erica and Ryan Layton; brother Ben; nephews Blake and Kael Layton; aunts, uncles and cousins; in-laws Marion and Carol Joy; Mike and Kelly Blair and niece Ella.
A memorial service will be held in Becker Auditorium at the high school in Bonners Ferry, Idaho, at 11:30 a.m. November 18, 2006.
A luncheon will follow at a place to be announced. All are invited.
Originally Published Bonners Ferry Herald