Wilbur Ray Frederickson, Jr.
Bonners Ferry Herald, Thursday, August 10, 2007

Wilbur Ray Frederickson, Jr., 68, passed away on July 27, 2006 at Alicia Roberts Medical
Center in Klawock, Alaska. Funeral Services were held on Thursday, August 3, 2006 at 10 a.m.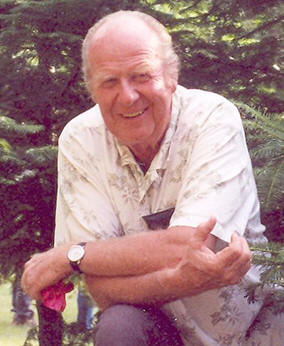 in the Wellsprings Community Center in Bonners Ferry with internment following in the
Copeland Cemetery.

Wilbur was born on December 26, 1937 in Aurora, Illinois to Wilbur Ray and Doris Virginia
(McNinch) Frederickson, Sr. He received his education in the Naperville, Illinois area. On
January 31, 1959 he married Janice E. Pfaff in Hinsdale, Illinois. In September of 1968 they
moved with their family to Bonners Ferry, Idaho. Wilbur and Jan have owned and operated the
Bonners Ferry Garbage Company since 1971.

Throughout his life Wilbur has enjoyed hunting and fishing, but most of all he loved serving the
Lord. He had been a long time member of Mt. Hall Community Church and has served on the
Board of Deacons for many years.

He has also been an active member of the Sandpoint Gideon Camp for 25 years and was
presently serving as President. He was also president of the Hall Creek Water Association, and
on the board of Copeland cemetery.

Wilbur's greatest joy was spending time with his family and friends, and he will be greatly
missed by his wife, family and all his friends.

Survivors include his wife of 47 years Janice (Pfaff) Frederickson at the family home; three
sons: Ron (Cheryle), Kevin (Stacey), Eric (Janice); one daughter, Rae Lynn Porter (Ralph) of
Thorne Bay Alaska; grandchildren, Joshua Riese, of Spokane, Washington, Shawn (Casey) of
Bonners Ferry, Idaho, Katie (Jeff) Kreis of Coeur d'Alene, Idaho; Bryce, Brent, Kaprice, Audrey,
Kortney, of Bonners Ferry; great grandchildren, Makenna and Ashlynn Riese, Spokane, Wash.;
Griffin, Mitchell and Ava of Bonners Ferry; Michael and Daniel Porter, Thorne Bay Alaska; three
brothers; Orin (Dodie) Naperville, Il., Gene (Mary Lou) Bonners, Ferry, Victor (SunYoung)
Naples, Idaho; five sisters; Elsie (Jerry) Hutton, Shirley Fisher, Sandra Frederickson of Sandwich,
IL., Diane (Dale) Carter of Petersburg, IL and Alice (Skip) Schultz of Leland, IL, and numerous
aunts, uncles, cousins, nieces and nephews.

Wilbur was preceded in death by infant daughter Connie and his parents; Wilbur, Sr., and Doris
Frederickson.

The family suggests memorials be made to the Gideon's International or the Mt. Hall Church.