Katherine (Patterson) Dudley - July 24, 1910 - March 18, 2008
published: Bonners Ferry Herald, Thursday, March 27, 2008
Katherine Dudley, age 97, passed away March 18, 2008 at Good
Sameritan Nursing Home in Silverton, Idaho. Funeral services will be
March 31, 2008 at 1:00 p.m. at the Bonners Ferry Funeral Home in
Bonners Ferry, Idaho.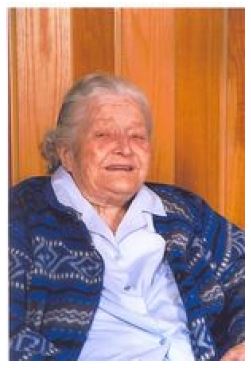 Katherine was born July 24, 1910 to Charles and Lalla (Stanley)
Patterson. She married Harry Dudley August 22, 1927 in Pueblo,
Colorado. Katherine and Harry lived at Naples, Idaho for 48 years and
they both worked at the Naples School. She was a member of Rebekka
Lodge for over 50 years. Since 1980 she has been in Nursing Homes
for four years in Silverton.
She is survived by her daughters, Lucy Covey and Barbara Bennett
of Osburn and Berneice Morgen of Hayden and by a daughter-in-law,
Janetta Dudley of Colstrip, MT. Also 17 grandchildren, many great
grand, great great grandchildren and great great great grandchildren.
Family and friends can sign Katherine's online guest book at
www.bonnersferryfuneralhome.com.
Arrangements were handled by Bonners Ferry Funeral Home.