Gary James Doyle
Published in the Bonners Ferry Herald March 24, 2005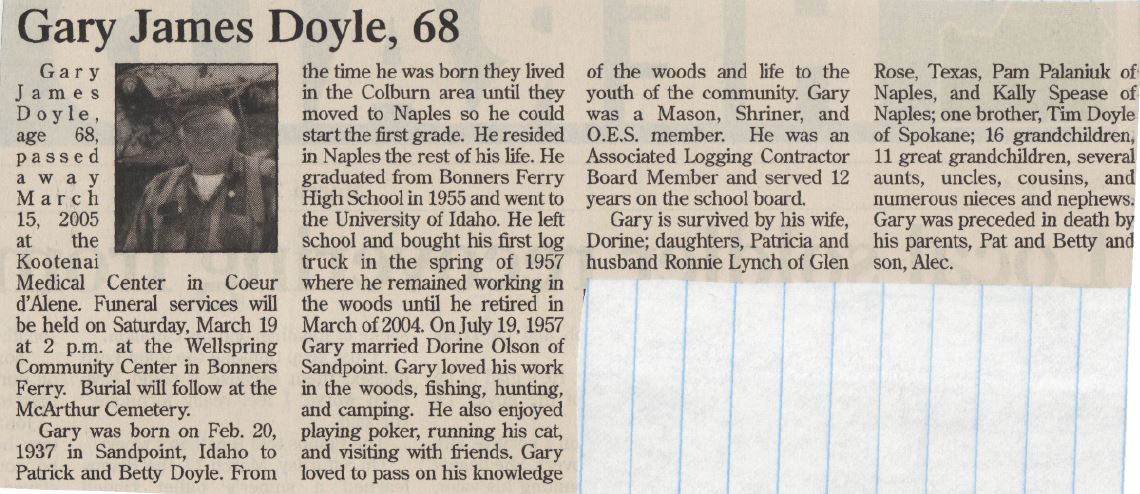 Another version was published on the website - Kootenai Valley Press - July 31, 2005
http://www.kvpress.com/obituaries/2005/0315doyle.htm
Gary James Doyle, 68, Naples, passed away March 15, 2005, at the Kootenai Medical Center in Coeur d'Alene, Idaho. Funeral services will be held at 2 p.m. Saturday, March 19 at the Wellspring Community Center in Bonners Ferry. Burial will follow at the McArthur Cemetery.
Gary was born on February 20, 1937, in Sandpoint to Patrick and Betty Doyle. From the time he was born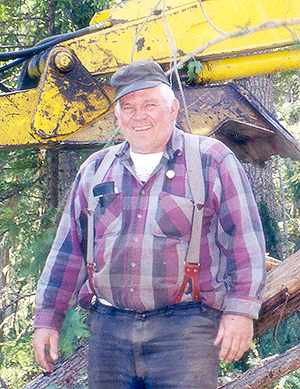 they lived in the Colburn area until they moved to Naples so he could start the first grade. He resided in Naples the rest of his life. He graduated from Bonners Ferry High School in 1955 and went to the University of Idaho for a year and a half. He left school and bought his first log truck in the spring of 1957 where he remained working in the woods until he retired in March, 2004.
On July 19, 1957, Gary married Dorine Olson of Sandpoint.
Gary loved his work in the woods, fishing, hunting, and camping. He also enjoyed playing poker, running his Cat, and visiting with friends. Gary loved to pass on his knowledge of the woods and life to the youth of the community. Gary was a Mason, Shriner, and O.E.S. member. He was an Associated Logging Contractor Board Member and served 12 years on the school board.
Gary is survived by his wife, Dorine; daughters Patricia and husband Ronnie Lynch, Glen Rose, Texas, and Pam Palaniuk and Kally Spease, both of Naples; brother Tim Doyle, Spokane; 16 grandchildren, 11 great grandchildren, several aunts, uncles, cousins, and numerous nieces and nephews. Gary was preceded in death by his parents, Pat and Betty, and son Alec.