Mrs. Charles Dinning Dies Wednesday Rites Were Saturday
Bonner Ferry Herald - June 5, 1958
Mrs. Charles H. Dinning died Wednesday afternoon at Bonners Ferry hospital at the age of 62. She had been a resident of the Copeland community for 23 years.
Ida Elizabeth Dinning was born December 7. 1895, in Iowa and came with her husband to Boundary county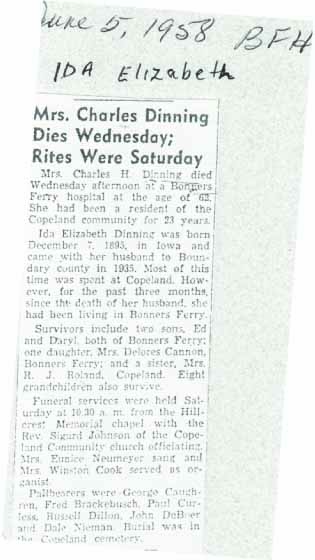 in 1935. Most of this time was spent at Copeland. However, for the past three months, since the death of her husband, she had been living in Bormers Ferry.
Survivors include two sons, Ed and Daryl. both of Bonners Ferry; one daughter, Mrs. Dolores Cannon, Bonners Ferry; and a sister, Mrs, R. J. Roland. Copeland. Eight grandchildren also survive.
Funeral services were held Saturday at 10.30 a. m. from the Hillcrest Memorial chapel with the Rev. Sigurd Johnson of the Copeland Community church officiating. Mrs. Eunice Neumeyer sang and Mrs.Winston Cook served as organist.
Pallbearers were George Caughren, Fred Brackebusch, Paul Curless, Russell Dillon, John DeBoer and Dale Nieman. Buriel was in Copeland cemetery.