Lula Josephine De Hart
Published in the Bonners Ferry Herald June 2, 2005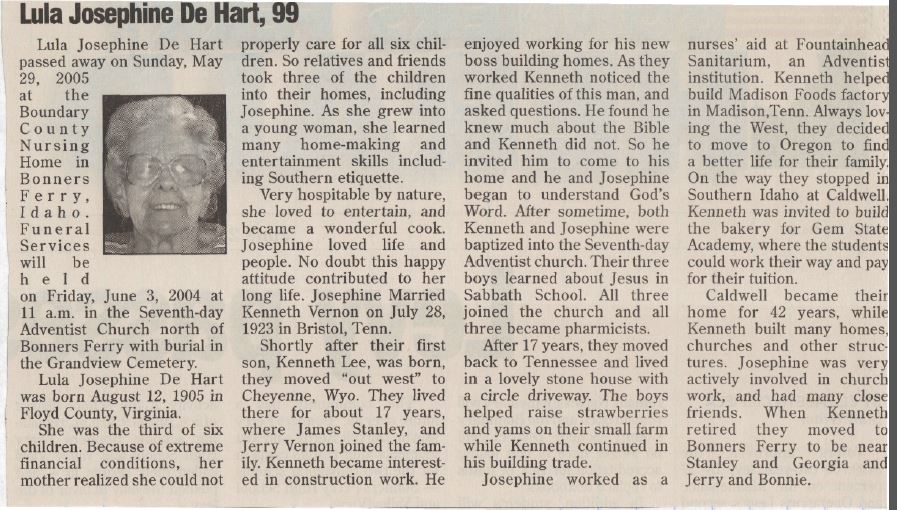 Also published on the website - Kootenai Valley Press - July 31, 2005
http://www.kvpress.com/obituaries/2005/0529dehart.htm
Lula Josephine De Hart passed away on Sunday, May 29, 2005 at the Boundary County Nursing Home in Bonners Ferry, Idaho. Funeral Services will be held at 11 a.m. Friday, June 3, in the Seventh-day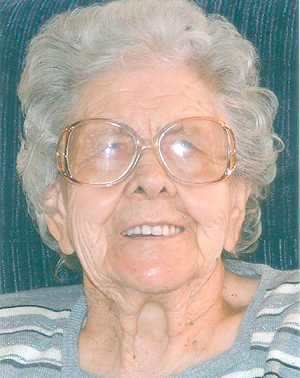 Adventist Church north of Bonners Ferry with burial in the Grandview Cemetery.
Lula Josephine De Hart was born August 12, 1905, in Floyd County, Virginia. She was the third of six children. Because of extreme financial conditions, her mother realized she could not properly care for all six children, so relatives and friends took three of the children into their homes, including Josephine. As she grew into a young woman, she learned many home-making and entertainment skills including Southern etiquette. Very hospitable by nature, she loved to entertain, and became a wonderful cook. Josephine loved life and people. No doubt this happy attitude contributed to her long life.
Shortly after their first son, Kenneth Lee, was born, they moved "out west" to Cheyenne, Wyoming. They lived there for about seventeen years, where James Stanley, and Jerry Vernon joined the family. Kenneth became interested in construction work. He enjoyed working for his new boss building homes. As they worked Kenneth noticed the fine qualities of this man, and asked questions. He found he knew much about the Bible and Kenneth did not. So he invited him to come to his home and he and Josephine began to understand God's Word. After sometime, both Kenneth and Josephine were baptized into the Seventh-day Adventist church. Their three boys learned about Jesus in Sabbath School. All three joined the church and all three became pharmacists.
After seventeen years, they moved back to Tennessee and lived in a lovely stone house with a circle driveway. The boys helped raise strawberries and yams on their small farm while Kenneth continued in his building trade. Josephine worked as a nurse's aide at Fountainhead Sanitarium, an Adventist institution. Kenneth helped build Madison Foods factory in Madison, Tennessee.
Always loving the West, they decided to move to Oregon to find a better life for their family. On the way they stopped in southern Idaho at Caldwell. Kenneth was invited to build the bakery for Gem State Academy, where the students could work their way and pay for their tuition. Caldwell became their home for forty-two years, while Kenneth built many homes, churches and other structures.
Josephine was very actively involved in church work, and had many close friends. When Kenneth retired they moved to Bonners Ferry to be near Stanley and Georgia and Jerry and Bonnie.