Randall W. Day, 54
Bonners Ferry Herald - Dec 2, 2004
Services were held at Trinity Lutheran Church on Saturday for Randy Day, who died following an extended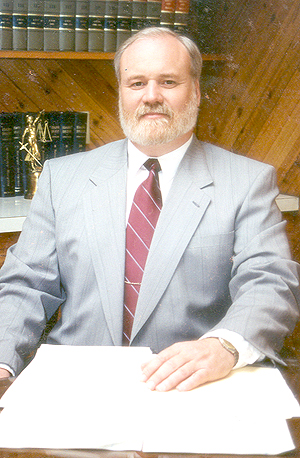 illness on Thanksgiving Day, November 25, 2004.
Randy was born in Spokane April 23, 1950, to Roy and Sammie (Littleton) Day. He was raised primarily in Bonners Ferry, and graduated from Bonners Ferry High School in 1968. He attended the University of Idaho, where he earned a bachelor of science degree in business in 1972 and his Juris Doctorate from the University of Idaho Law School in 1975.
He married Lauralle Gumm May 27, 1972, in Spokane, and they had four children; Russell Willard, Angela Marie, Melissa Lynne and Julie Dean, before they divorced in 1986.
On March 6, 2004, Randy married his long-time friend and secretary of 24 years, Nancy Cima.
Randy maintained a successful private law office since 1975. He was appointed as Boundary County Prosecuting Attorney in 1976 and he served until 1978, then he ran for the office and was elected in 1988. He served as the county's top law enforcement officer until 1996.
He was a member of the Board of Directors and past president of the Greater Bonners Ferry Chamber of Commerce, the Bonners Ferry Kiwanis Club, Trinity Lutheran Church, the Boundary County Farm Bureau, the Bonner/Boundary County Cattlemen's Association and the American Hereford Association. He was named Outstanding Young Man of America in 1976, and has been listed in Who's Who in American Law.
He served as Cub Master for Pack 114 of the Boy Scouts of America and was a 4-H volunteer.
He was a past member of the Board of Directors of the Idaho Association of Counties and a member of the National District Attorney's Association as well as the Idaho Prosecuting Attorneys Association.
Randy dearly loved Boundary County and the people who live here. His love and knowledge of the Kootenai River was outstanding.
Along with his love of the practice of law, he dearly loved fishing, farming and his registered Polled Hereford cow herd. And everyone who knew him knows of his love of sports, especially football.
His grandchildren; Andrea, Allyson, Davis and Dixon Merrifield and Kirby Smith were the apples of his eye and brought him immeasurable joy. He was excited to learn that Julie and Jacob Johnson were bringing another grandchild.
Randy is survived by his wife, Nancy Cima-Day; parents Roy and Sammie Day; brother Steve Day and wife Rowena; sister Cynthia Day-Phalen and husband Bob; and children Russell and Deni Day, Angela and Tom Merrifield, Melissa Day and Julie and Jacob Johnson.
Pall bearers at his funeral were Kevin Bennett, Michael Bishop, Richard Cowen, Jacob Johnson, Tom Merrifield and Derek Day and honorary pall bearers were Dennis Ponsness, Phil Broesch, Don Alexander, Jim Dahlberg and all his many friends.
A memorial has been established in Randy's name at the Bonners Ferry Badger Booster Club, and donations can be sent there at P.O. Box 1294, Bonners Ferry, ID 83805.