Dorothy Grace "Dot" Cranor
published: Bonner County Daily Bee, September 19, 2007 Page 8
Dorothy Grace "Dot" Cranor, 89, lost
her 15 year battle with cancer on Sunday, September 16, 2007 at Kootenai Medical
Center in Coeur d'Alene, Idaho. Memorial services will be held at 1:00 pm,
Wednesday, September 19, 2007 at the V.F.W. Hall in Sandpoint with Pastor Steve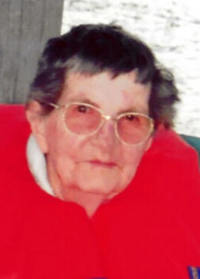 Bradshaw officiating.
Dot was born September 4, 1918 in
Leadville, Colorado to Thomas and Nora Adamson. She married Orville Cranor on
June 12, 1937 in Glenwood Springs, CO. She has resided in Bonner County since
1950 in the communities of Colburn, Laclede and Sandpoint.
Dot was a surrogate mother to her children's many friends throughout the years
and will be missed by all of them.
She was well known for her knowledge of old home remedies which cured a vast
variety of conditions. She always looked forward to gathering firewood for the
winter, picking huckleberries, and kept busy canning every thing she harvested
from her garden and fruit trees. Her apple pies were the delight of her family
and friends.
One of her greatest passions was
playing bingo with her dear friends. Dot loved the great outdoors, especially
Sunday drives to the hills and hunting camp in the fall. One of her greatest
adventures was driving the Alcan Highway to Anchorage in 1965 to spend the
summer with Orville and their children.
She was a member of the Pack River
Grange, Westmond Grange, National Grange and a past member of the Eagles. Dot
also served on the Bonner County election board for many years.
She is survived by her two sons, Glen
Cranor of Sandpoint, ID and Lonnie (Peggy) Cranor Apache Junction, AZ; three
daughters, Nora (Gary) Kedish of Sandpoint, ID, Barbara (Larry) Foote of
Anchorage, AK and Cathy (Mike) Bessent of Anchorage, AK; daughter-in-law, Mary
Cranor of Valdez, AK; 15 grandchildren; 23 great grandchildren; 2 great-great
grandchildren and one older sister, Golda Christman of Springfield, OR.
Dot was very proud of her grandson
Eric Kedish, who is currently serving our country in Iraq, and is following a
long family tradition of military service.
Dot was preceded in death by her
parents, husband Orville, oldest son Roy, and oldest grandson Donald Cranor.
Lakeview Funeral Home in Sandpoint,
Idaho is handling the arrangements.