George Ira Cook January 12, 1908 - November 1978
published: Sandpoint News Bulletin, November 21, 1978 Page 14


George Ira Cook
George Ira Cook, 70, died this week at Sandpoint He was born Jan 12, 1908, at Sandpoint. He had lived in St Maries and California, moving back to Sandpoint in 1964
He is survived by a sister. Mrs Arthur Evans of Westmond.
Graveside services will be at 11 a m Saturday at McArthur Cemetery with the Rev Warren Pomeroy of the First Church of God officiating.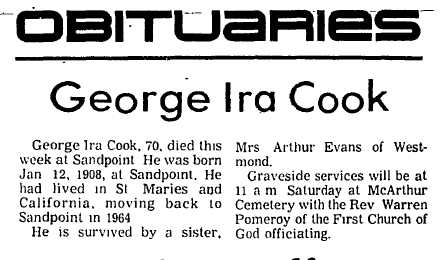 note: George Ira's parents are Fenley and Mary (Search) Cook