June Elaine Bennett 1920 ~ 2004
Graveside services for June Elaine Bennett, 84, Bonners Ferry, will be held at Grandview Cemetery at 2 p.m. Saturday, July 31. Elaine died at the Boundary County nursing home July 26, 2004.
She was born in Dubois, Idaho, March 24, 1920, to Thomas and Edna Patelzick. She moved with her family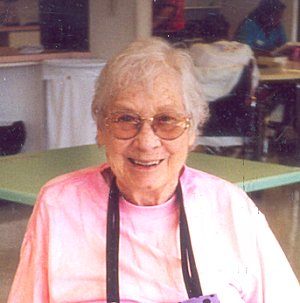 to Hamer, Idaho, while still an infant, and in 1930 the family moved to Agawam, Montana. In 1935, they moved again to Moiese, Montana.
On May 18, 1939, she married Aubrey R. Bennett in Charlo, Montana. The couple made their home in Moiese until the fall of 1941, where they took up a farm in Morton, Idaho. In March, 1951, Aubrey was promoted to head lineman for Northern Lights, and the family moved to Bonners Ferry. While her husband worked, Elaine fielded the telephone and two-way radio calls he needed to keep the power on.
Elaine was an accomplished artist, and she helped organize the Bonners Ferry Art Club. She also enjoyed sewing, knitting, crocheting and many crafts. She loved her garden, and spending time with her many grandchildren and great-grandchildren.
She is survived by Audrey Schenck, Mary and Gaylord Dirks, and Tom and Cheryl Bennett, three sisters and one brother. She has 12 grandchildren and 24 great-grandchildren.
Originally published on the website - Kootenai Valley Press
kvpress.com/obituaries/040726bennett.htm