Peter E. Atkins 1962 ~ 2005
January 27, 2005
Peter E. Atkins was born May 8, 1962 in Forest, Mississippi. He died January 21, 2005, in Naples, Idaho. He grew up in Gunnison, Colorado, attending school there, and graduating from Gunnison High in 1981. While growing up there, he learned to love the outdoors. Even as a small child, hunting and fishing was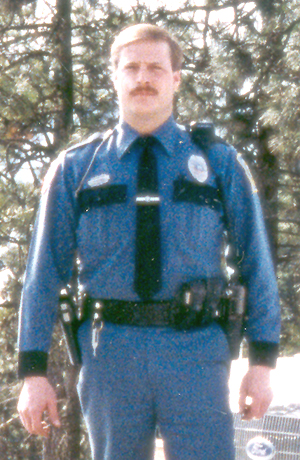 something he really loved to do.
In 1983, Pete graduated from Aims College in Greeley, Colorado. He stayed in Greeley working as a welder/mechanic until 1986 when he made the move to Salmon, Idaho. In 1989 he made another move to Coeurd'Alene where he joined the police department and began a 15 year career that he dearly loved. He attended P.O.S.T. training in 1990 and received an advanced certificate. Pete loved being a police officer, it brought him great joy to serve those in the communities where he worked.
When Pete wasn't working, he continued his childhood love, the great outdoors. He became an avid bow hunter; elk hunting was his favorite. He also liked to spend time with his good friend "Bud", his horse. He loved to brush, talk to, and especially take Bud for long rides in the mountains.
Along with serving in the Coeurd'Alene Police Department, he also worked for Spirit Lake, Bonners Ferry, and Elk River.
Pete married Shannon P. Jeppsen November 9,2002 in Bonners Ferry, Idaho. Their time together was short, but it was full and meaningful.
He is survived by his wife Shannon, stepchildren: Chance, Stuart, and Laney, his parents Dale and Yvonne Atkins, his brother Paul of Coeurd'Alene, two sisters, Shauna Weber, and Robin McKeever, many nieces and nephews, and by his grandmother Velma Lazotte.
Pete was loved by many and will be greatly missed.
If desired, memorials may be sent in care of the family at: HC 1 Box 386-G, Naples, Idaho 83847.
Originally published on the website - Kootenai Valley Press - January 27, 2005
kvpress.com/obituaries/2005/0121atkins.htm