Private graveside services will be held at Grandview Cemetery for Addie B Andrews, 86, who passed away July 30, 2005, at the Boundary County Nursing Home in Bonners Ferry, Idaho.
Addie was born to Fred and Ollie (Robeson) Robinson on March 22, 1919, at their home in St. John,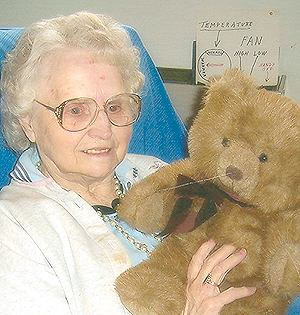 Washington. She received her education in St. John, attending 11 years of School and receiving an "A" in music. She married Ed Flory in 1936 while Ed was working for her father and other farmers in the St. John area.
They moved to Kellogg, Idaho, where Larry, their first child, was born in 1937. In 1939 another son, Doug, was born. A few years later the family moved to the Spokane area and later bought a farm in the Marshall/Cheney area, and lived there until the fall of 1953 when Ed's work brought them to Bonners Ferry, where Ed ran the Copeland Grain Elevator.
Addie was always an avid church member and taught Sunday school and played the piano for her love of the Lord. They bought a farm across the highway from the Mt. Hall School in 1954 and she lived there, where she finished raising her two sons and worked on the farm. She also raised an orphan fawn deer named Cookie, who often visited the Mt Hall School children.
Her husband took sick and passed away at home in 1961. Addie sold the farm and traveled for awhile.
When she returned to Bonners Ferry she married James Andrews in the fall of 1961 and gained two daughters, Carol and Judy Andrews.
Addie and Jim Andrews started a sales business and traveled selling different merchandise. They started a wrought iron candle holder factory and merchandised their products. Addie worked in the factory forming and painting the products.
When her husband James took sick they sold out and moved to Coeur D'Alene, where James passed away in January of 1990.
Addie traveled with her sister Pauline for a number of years until sickness forced her to sell her home. She regained her health somewhat and moved to the Restorium in Bonners Ferry. Sickness struck again and she moved to the Boundary County Extended Care Unit of the Hospital in May, 2005.
Survivors include sons Larry Flory and wife Lea of Kellogg and Doug Flory and wife Claire, Bonners Ferry; brother Donald (Mike) Robinson, Bonners Ferry; daughters Carol Andrews, Arizona, and Judy Andrews Rafferty and husband Jim, New York; 22 grandchildren, 38 great-grandchildren and two great great-grandchildren.
She touched many lives and inspired many to know the Lord thru her music and witnessing. She enjoyed many hours of friendship with Ted Helmer in the Restorium. She requested no funeral service or flowers.
Her wishes were that any memorials be sent to the Friends of the Restorium, c/o Betty Farrell, HC 85, Box 8279, Bonners Ferry, ID, 83805.
Many thanks and prayers to the staff of the Restorium and the precious people at the extended care unit at the hospital.
Originally published on the website - Kootenai Valley Press - August 01, 2005
http://www.kvpress.com/obituaries/2005/0730andrews.htm