Bonners Ferry Herald, Thursday, Feb. 1, 2007
Raymond Davis Abraham
Born: February 10, 1954
Died: January 16, 2007
Chief Raymond Davis Abraham, 50, passed away January 16, 2007, in Coeur d'Alene, Idaho.
The Rosary Service was held at 7:00 PM, Friday, January 19, 2007 at the Kootenai Indian Mission.
Funeral Services was conducted at 11:00 AM, Saturday, January 20, 2007 at St. Ann's Catholic Church, Bonners Ferry, Idaho. The Interment will be in the Kootenai Tribal Cemetery.
Chief Raymond was born February 10, 1956 in Bonners Ferry, Idaho. The grandson of Chief Eneas Abraham and Ann Mary Abraham and the son of Abraham Abraham and Louise Abraham.
Raymond grew up an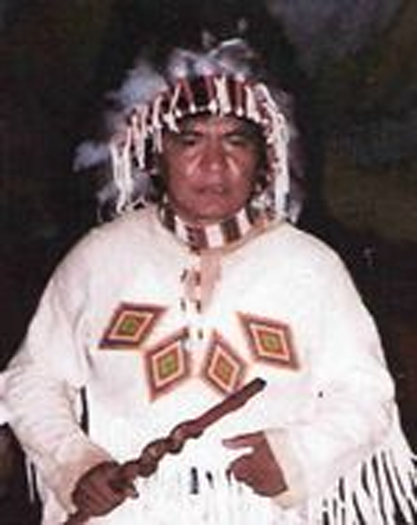 d lived in Bonners Ferry and was elected Chief of the Kootenai Tribe of Idaho at the age of 18. This began a new start for the survival of his people. Working hard, Raymond established the Tribe's successful Kootenai River Inn as an economic base for the survival of the Tribe, as well as their White Sturgeon Hatchery to help the recovery of this endangered species, which, is a vital part of the Kootenai's cultural history.
Raymond was fluent in the Kootenai Language and was a teacher of his traditional culture to the younger generation, always encouraging others to learn and preserve the traditional ways of life.
He enjoyed being around all people and would always help out in any way he could, serving all the Ktnaxa people.
Raymond is survived by his mother, Louise Abraham; daughters Jackie, Cecile, Marian, and Juli Abraham; sisters Eileen Wheaton and Dixie Abraham; brother Ron Abraham and stepchildren Aaron and Shaun as well as numerous nieces, nephews and stepchildren.
He was preceded in death by his father Abraham Abraham; son Douglas Abraham, his brother Taylor Abraham and uncles Tamia, Pascal and Louie Abraham.
Download the PDF - Abraham, Chief Raymond Davis